This Slow Cooked Chinese Duck with Plums recipe makes tender duck in a savory, yet fruity sauce resulting in a meal guaranteed to impress.
I love duck, but I can't say I ever made it before this. It's not something my mother ever made growing up so I guess I never got into cooking it.
You can enjoy this dish on its own or serve it with anything from my Best Ever Fried Rice or even Best Ever Mashed Potatoes to make a hearty meal.
Why This Recipe Works
The slow cook method produces melt in your mouth, tender meat.
The combination of sweet and savory gives this a fantastic flavor profile.
Serving the dish with the halved plums makes this a substantial dish perfect for a special dinner or special meal.
That said, there are certain restaurants that I go to that I order the duck each, and every time I go I always look at the menu but never fail to go back to the duck.
This recipe is based on a dish I order every time I go to a local Chinese restaurant. They serve it with the halved cooked plums as well and I think it's a great spin on traditional duck in plum sauce.
How to make slow cooked duck with chinese plums
Fry the duck.
Add onion, green onions, garlic, and ginger to the pan.
Sprinkle flour into the pan, add tomato paste and combine.
Stir in the stock and other wet ingredients.
Stir in the plum jam/jelly and Chinese spices.
Transfer and cook for 6 to 8 hours in a slow cooker.
Serve with chopped green onions. Enjoy!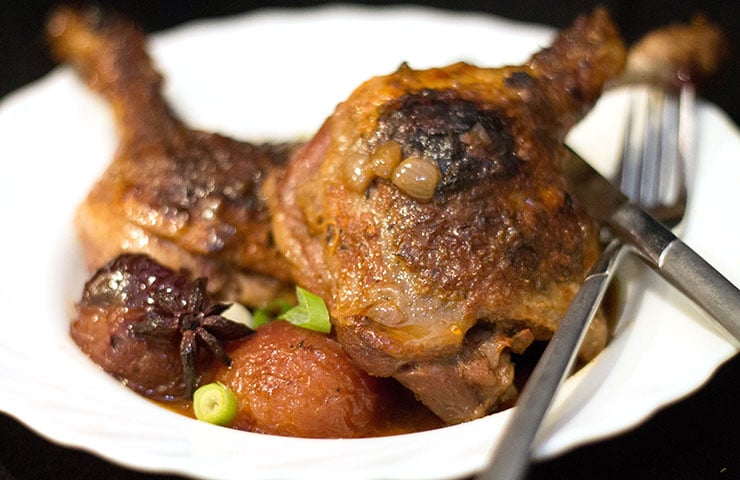 FAQs
What goes well with duck?
You can serve duck with mashed potatoes, rice, roasted vegetables or your favorite Asian side dish.
Is hoisin sauce the same as plum sauce?
Hoisin and plum sauce have a similar flavor but hoisin sauce is usually spicier and has a stronger flavor. Plum sauce is more jam/jelly-like and made from whole plums. These two sauces can however be substituted for each other.
What is Chinese plum sauce made of?
Plum sauce is usually. made of plums, soy sauce and Chinese/Asian spices
Stay Updated
Receive new recipes & dinner ideas straight to your inbox!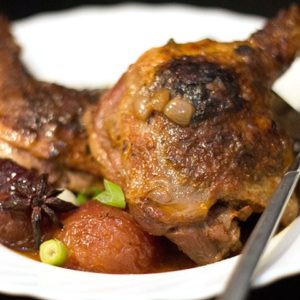 Let's Make Slow Cooked Chinese Duck with Plums
This rich, fruity, slow cooker recipe makes an elegant main course that's special enough to serve for dinner parties or special occasions.
Prep20 minutes
Cook6 hours
Total6 hours 20 minutes
Ingredients
4 duck Legs
1 large onion chopped
6 green onions Sliced
2 cloves garlic
​½ inch fresh ginger grated
2 tablespoons of flour
1 tablespoon tomato paste
2 cups chicken stock
1 tablespoon rice wine vinegar
2 tablespoons honey
2 teaspoons fish sauce
​½ cup hoisin sauce
¼ cup plum jam (jelly)
​½ teaspoon Chinese five-spice
4 star anise
5-6 pitted plums halved
Instructions
Preheat the slow cooker if necessary.

Dry fry the duck legs in a frying pan over low heat until the fat starts to run off them. Then increase the heat to brown the legs on both sides. Remove from the pan and add them to the slow cooker.

Discard all but 1 tablespoon of the duck fat from the pan. Add the onion and fry until they start to soften a but. Add 1⁄2 the green onions, garlic and ginger. Fry for another minute.

sprinkle with the flour and stir to coat. Add the tomato paste and stir to combine.

Stir in the chicken stock slowly avoiding lumps.

Stir in the vinegar, honey, fish sauce, and hoisin sauce.

Add the plum jam and stir until it melts into the sauce.

add the Chinese five spice, star anise and the plums. Mix to combine and pour over the duck legs in the slow cooker. Cook on low for 6 – 8 hours.

Add the remainder of the green onions before serving and serve on rice or Chinese noodles.
Nutrition Information:
Calories: 622kcal (31%)| Carbohydrates: 56g (19%)| Protein: 49g (98%)| Fat: 21g (32%)| Saturated Fat: 5g (31%)| Cholesterol: 197mg (66%)| Sodium: 1024mg (45%)| Potassium: 331mg (9%)| Fiber: 3g (13%)| Sugar: 38g (42%)| Vitamin A: 525IU (11%)| Vitamin C: 19.3mg (23%)| Calcium: 69mg (7%)| Iron: 5.3mg (29%)