Packed with Shrimp and chopped hard boiled eggs, This hearty recipe for  Shrimp and Egg Salad makes a healthy and delicious lunch or light dinner.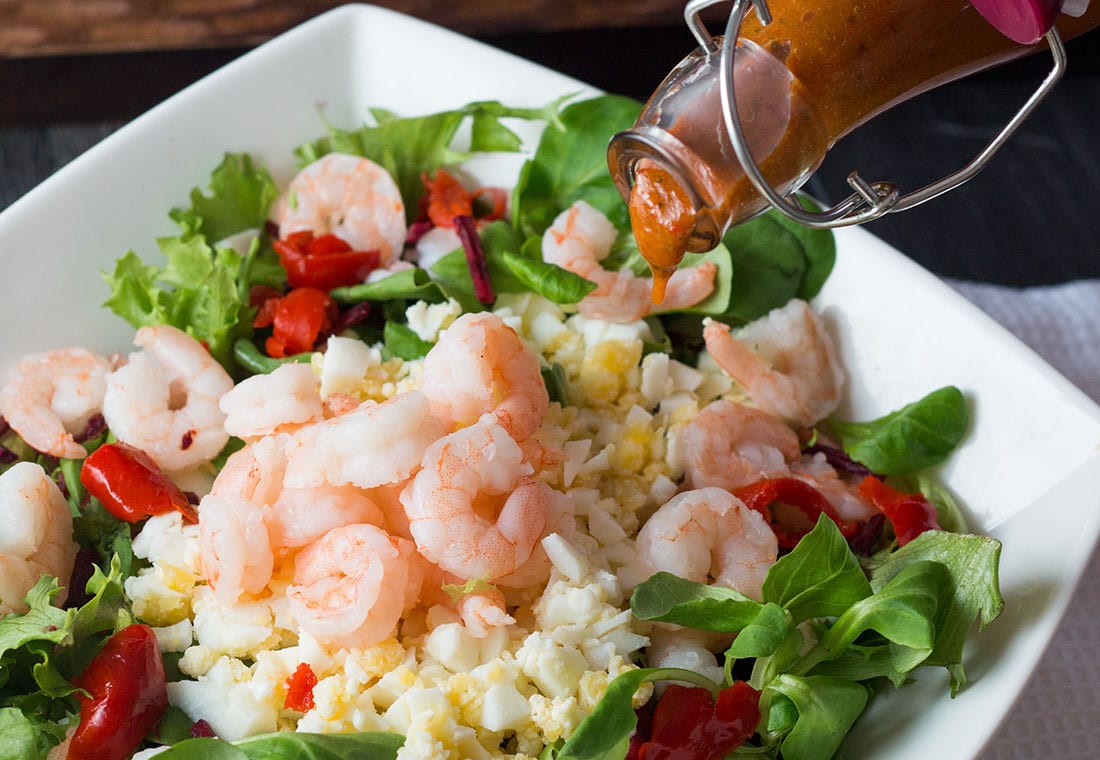 Buy precooked shrimp and washed salad to make this a quick and easy meal that's ready in no time.
I make a lot of salads during the summer.  Living in a country that rarely has air conditioning, anything I can make without heating up the kitchen is a real plus for me.
When I make this on hot days, I cook the eggs first thing in the morning and chill them in the fridge until I'm ready to use them.
Growing up, my parents used to take us to a restaurant that served a salad before the meal that was very similar to this.  They piled it high with chopped eggs, baby shrimp and Catalina dressing (a red french dressing).  I hated hard boiled eggs, but I loved that salad.
The restaurant closed down years ago, but my love for that salad still remains.
You can't buy Catalina dressing in the UK so I created my own recipe, Catalina Style Peppadew Salad Dressing.  My version is Catalina style with my own little twist.
This is a great salad for the whole family.  My son likes to add shredded cheese to his.  It's really versatile.  You can add what ever salad fixings you want.
I sometimes add cucumber and tomatoes, but the day I shot the photos, I just used mixed bagged salad and a few Peppadew Piquante Peppers.  I like how the sweet heat and the shrimp go together, but it's really your call – you can build on it any way you want.
Never Miss A Single Recipe!
Join the free Erren's Kitchen mailing list and get all the latest tasty goodness straight to your inbox!
Love salad?  Check out some of the other salad recipes on Erren's Kitchen.