This wonderful recipe for Raspberry Swirled Orange Pound Cake makes a tangy, sweet treat that just screams sunshine. The orange cake is speckled with fresh berries and it's topped with jam swirls & orange icing.
So after being really unwell with tonsillitis for nearly two weeks, the baking urge kicked in as soon as I was feeling better and I just had to create something new!
I went to the kitchen and assessed what I had to use. My son had begged me to buy some raspberries when I was doing the food order from my sickbed online.
Turns out, he thought they were a bit too tangy for him to eat as a snack so they were mine to use as a starting point.
When blog about food, sometimes it's really difficult to come up with something you haven't done before, but when I turned to the fruit bowl, I knew the flavors I was going to work with.
I know raspberries and oranges aren't often used together in baking, but one of my favorite flavor combinations is orange and cranberries in the winter so I thought the tart flavor of the raspberries would fit the bill perfectly and I was right because this cake turned out amazing. I used the base recipe for my Marble Pound Cake and mixed it all right up!
The raspberry jam on top added an extra kick of raspberry and the orange icing drizzled on top just brings the whole cake together.
You need to make this cake at least once this spring or summer (while all the fresh berries are in season). It's so bright and refreshing and it just screams sunshine.
The cake is soft and moist, it's loaded with raspberries and plenty of orange flavors.
To keep the raspberries from adding too much moisture to the cake, they need to be coated in flour before adding them to the batter.
Note: you can use frozen raspberries for this recipe, but make sure they are fully thawed and drained of excess juices and then you can coat them with the flour.
Tip: When using a creaming method in cake batter, the mixture can often curdle (see image below).
This can happen when the beaten eggs are added to the sugar & butter mixture too quickly, causing the mixture to separate. This can cause the air to escape and the finished cake will be heavier and sometimes cause large holes to appear in the cake.
This can easily be fixed by continuing to beat the mixture until it because smooth. To make this faster, you can wrap a warm damp dishtowel around the bowl as you re-beat the mixture. Don't worry though – If it does curdle, the cake won't be as light but it's not a total disaster.
To get the swirling effect, warm the jam in the microwave until fluid and then using a teaspoon, add the jam in individual drops all over the top of the batter and then use a toothpick or skewer to swirl them.
Stay Updated
Receive new recipes & dinner ideas straight to your inbox!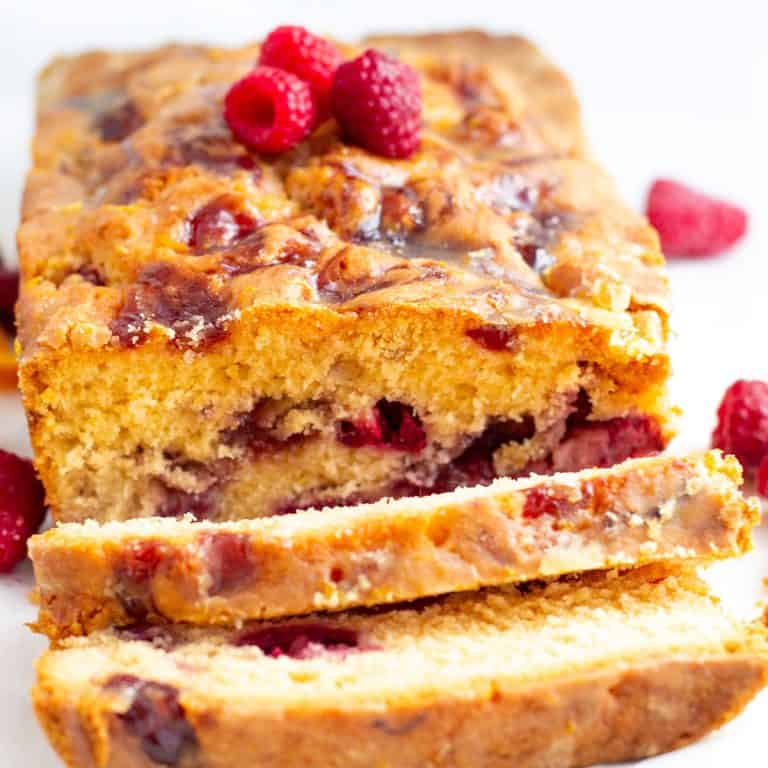 Let's Make Orange Raspberry Cake
Raspberry swirled orange cake that's dotted with fresh raspberries and topped with an orange glaze..
Prep15 minutes
Cook1 hour 5 minutes
Total1 hour 20 minutes
Ingredients
2 sticks butter softened
1 cup granulated sugar
1 tablespoon finely grated orange zest
4 large eggs at room temperature
1 tablespoon fresh orange juice
2 cups all-purpose flour plus more for coating the raspberries
2 teaspoons baking powder
​½ teaspoon salt
1 cup raspberries washed left to dry completely & coated in flour
​½ cup raspberry jam
Glaze:
2 tablespoons orange juice
​½ teaspoon orange zest
¾ cup powdered sugar sifted
Instructions
Preheat oven to 325F/160C, grease a 9 x 5 x 3-inch loaf pan and dust with flour, shaking out excess.

Sift flour, baking powder, and salt twice and set aside.

Beat butter until light & creamy. While beating, gradually pour in sugar, then increase speed and beat until light and fluffy.

In a separate bowl, whisk together the eggs to blend but do not add air.

Add beaten eggs in 3 additions, beating for 20 seconds after each addition.

If batter looks like it is starting to curdle, wrap a warm, dish towel around the bowl and continue beating. Add in orange and zest.

Fold in flour by hand in 2 additions and then add the raspberries, spread batter into prepared pan.

Warm the jam in the microwave until fluid (about 30-45 seconds).

Add the jam in individual droplets all over the top of the batter and then use a toothpick or skewer to swirl them.

Bake for 65 to 70 minutes, until a tester inserted in the center of the cake comes out clean. Allow cake to cool for 15 minutes, then turn out onto a rack to cool completely.

While cake is cooling prepare glaze. Heat orange juice, sugar and zest until sugar dissolves. While glaze and cake are still warm, poke holes in cake with a skewer and spoon glaze over cake. The syrup will soak in and set with a crunchy exterior, and the zest will rest on top.
Nutrition Information:
Calories: 308kcal (15%)| Carbohydrates: 35g (12%)| Protein: 4g (8%)| Fat: 16g (25%)| Saturated Fat: 10g (63%)| Cholesterol: 95mg (32%)| Sodium: 258mg (11%)| Potassium: 146mg (4%)| Fiber: 1g (4%)| Sugar: 15g (17%)| Vitamin A: 555IU (11%)| Vitamin C: 6.1mg (7%)| Calcium: 50mg (5%)| Iron: 1.4mg (8%)