Pasta Fagioli is classic Italian soup, but hearty enough to be considered a pasta dish as well. This authentic recipe is full of flavor, satisfying and loaded with pasta, beans, and vegetables. It's a fabulous vegetarian meal as well!
This is one of my signature dishes. Anyone who has spent time in my house has eaten my Pasta Fagioli. I have friends that request it whenever they are going to see me and others that tell me they crave it on a regular basis!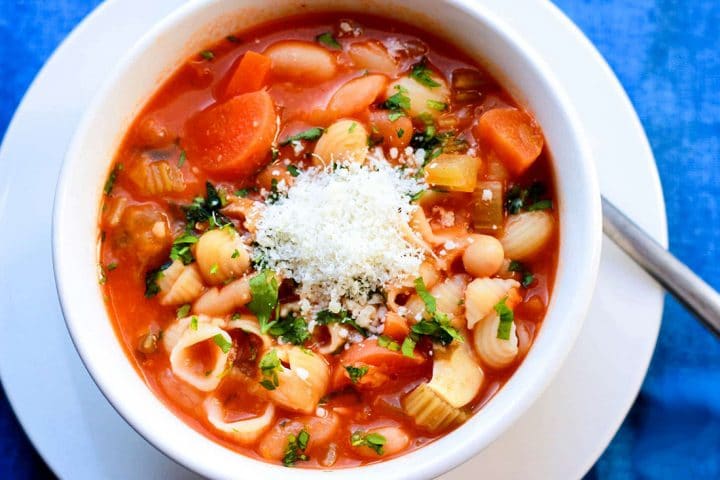 The best Pasta Fagioli is all about fresh, simple ingredients. What you'll need:
Other Soup Recipes You'll Love
My Pasta Fagioli is simple to make. You start by sauteing the vegetables in a large pot. Once they are softened you add the garlic and cook another minute.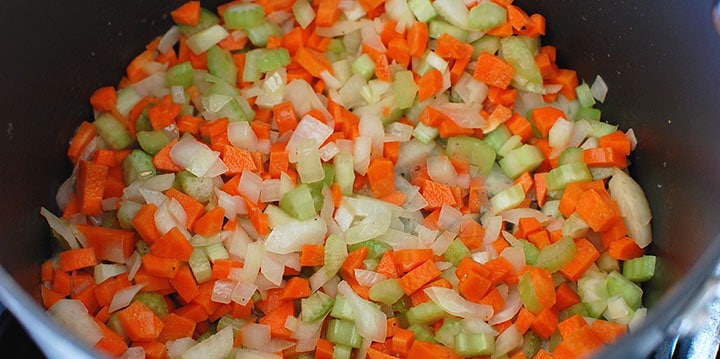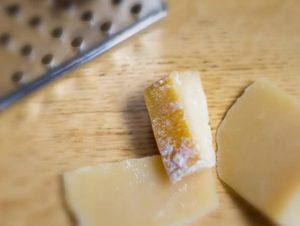 Tip: Using the rind of Parmesan Cheese for Italian soups instantly boosts the flavor. Although the rind gets soft, it won't melt it will just cook in the soup and infuse it with extra flavor. Once the soup is cooked, it's removed and discarded.
If you're having trouble finding it, ask them at the cheese counter of your grocery store. Some will give it away for free!
Now back to the Pasta Fagioli – Next, add the 1 can of beans, tomatoes, chicken stock, and for added flavor the rind of the Parmesan cheese. Puree or mash the second can of beans with a little of the liquid from the can and then add it to the pot. This adds a beautiful consistency to the soup.
Bring to a boil and then cover and lower the heat to the lowest setting. Add the chopped parsley, season with salt and pepper and allow to simmer. Pasta Fagioli is a dish that can slow cook all day. The longer it cooks, the better it seems to taste. Just add the pasta 10 or 15 minutes before serving.

Serve topped with Parmesan cheese.
Other Italian Food You'll Love
Cook's tips:
Pasta Fagioli freezes really well. I often make a big pot and freeze the soup without the pasta in separate containers. Then you can just defrost and add pasta before serving.
This recipe can easily be turned into a vegetarian dish by using vegetable stock.
A cup of chopped pancetta or bacon can be added by browning it in the pot before adding the onion to add extra flavor.
To make Pasta Fagioli in a slow cooker or crockpot, just follow the steps listed, but instead of simmering it on the stovetop, you can transfer it to a slow cooker on low and cook 6-8 hours.
★ Did you make this recipe? Please give it a star rating below!
Stay Updated
Receive new recipes & dinner ideas straight to your inbox!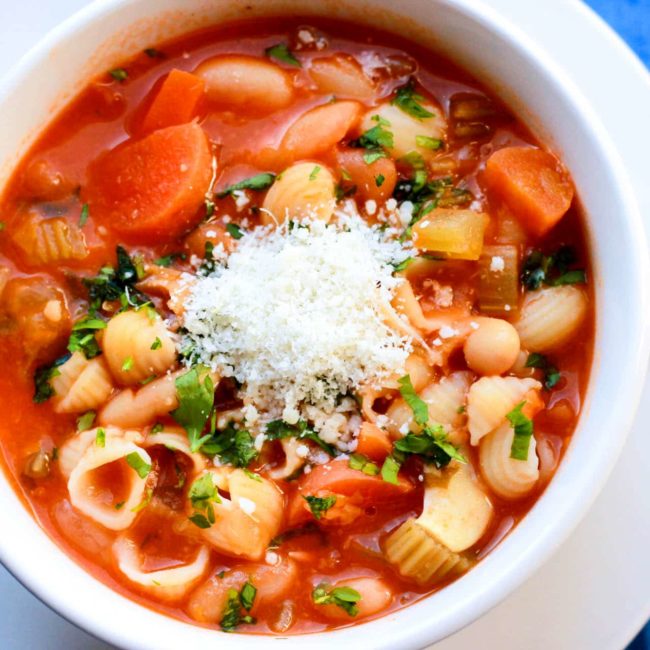 Let's Make Pasta Fagioli
Warm-up your week with this mouthwatering Italian soup that's not only delicious but good for you too!
Prep15 minutes
Cook1 hour
Total1 hour 15 minutes
Ingredients
3 tablespoons olive oil
4 cloves garlic large, chopped
2 large Carrots chopped
2 celery stalks chopped
1 onion chopped
1 14 oz can chopped tomatoes or pureed tomatoes
1 quart chicken or vegetable stock
2 14 oz cans Cannellini Beans
1 3-inch piece Parmesan rind optional
1¼ cups Small Pasta
Flat leaf parsley A couple of good handfuls, chopped
Salt and Pepper To taste
Instructions
Heat the oil in a large stock pot, then cook the onion, carrot, and celery until soft.

Add the garlic and cook another minute.

Pour in the stock, 1 can of beans (adding the liquid from the beans will add extra thickness to the soup) Parmesan rind (if using) and chopped tomatoes, and bring to a boil.

Puree or mash the 2nd can of beans with a little of the liquid from the can and then add it to the pot. Bring to a boil and then cover and lower the heat to the lowest setting.

Let simmer for 1- 2 hours (although it can cook longer), stirring occasionally.

Remove from heat, remove the rind with a slotted spoon and discard.

Add the pasta, chopped parsley, and seasonings. Cook until the pasta is cooked al dente (adding water if the soup becomes too thick).
You can also cook the pasta separately.

Serve in bowls topped grated Italian cheese and a sprinkling of chopped parsley.
Nutrition Information:
Calories: 469kcal (23%)| Carbohydrates: 14g (5%)| Protein: 31g (62%)| Fat: 31g (48%)| Saturated Fat: 7g (44%)| Cholesterol: 118mg (39%)| Sodium: 140mg (6%)| Potassium: 460mg (13%)| Fiber: 1g (4%)| Sugar: 2g (2%)| Vitamin A: 3680IU (74%)| Vitamin C: 6.1mg (7%)| Calcium: 42mg (4%)| Iron: 1.7mg (9%)