Pasta Fagioli is classic Italian soup, but hearty enough to be considered a pasta dish as well. This recipe is full of flavor, satisfying and loaded with pasta, beans, and vegetables.  It's a fabulous vegetarian meal as well!
This is one of my signature dishes.  Anyone who has spent time in my house, has eaten my Pasta Fagioli.  I have friends that request it when ever they are going to see me and others that tell me they crave it on a regular basis!
This is the kind of soup that can slow cook all day. The longer it cooks, the better it seems to taste.  Just add the pasta about 10 minutes before you want to serve it.  I also sometimes cook the pasta separate and add it later for a thinner consistency.
I also make a huge pot by doubling (or even tripling) the recipe.  When I do make extra, I split the recipe before adding the pasta as I don't like bloated pasta and would rather cook fresh when I re-heat left overs.  This dish also freezes really well.
This recipe can easily be turned into a vegetarian dish by using vegetable stock.
Variation: A cup of chopped pancetta or bacon can be added by browning it in the pot before adding the onion to add extra flavor.
Never Miss A Single Recipe!
Join the free Erren's Kitchen mailing list and get all the latest tasty goodness straight to your inbox!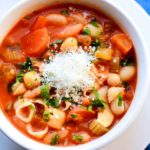 Pasta Fagioli
Ingredients
3

tablespoons

of olive oil

3

cloves

large garlic

chopped

2

large Carrots

chopped

2

celery Stalks

chopped

1

onion

chopped

1

14oz can

chopped tomatoes or pureed tomatoes

1

quart

chicken or vegetable stock

2

14oz cans

Cannellini Beans

1

3-inch

piece Parmesan rind

optional

1 1/4

cups

Small Pasta

A couple of good handfuls of Flat leaf parsley

chopped

Salt and Pepper
Instructions
Heat the oil in a large stock pot, then cook the onion, carrot and celery until soft.

Add the garlic and cook another minute.

Pour in the stock, 1 can of beans beans (adding the liquid from the beans will add extra thickness to the soup) Parmesan rind (if using) and chopped tomatoes, and bring to a boil.

Puree or mash the 2nd can of beans with a little of the liquid from the can and then add it to the pot. Bring to a boil and then cover and lower the heat to the lowest setting. Let simmer for 1- 2 hours (stirring occasionally).

Remove from heat, remove the rind with a slotted spoon and discard.

Add the pasta, chopped parsley and seasonings. Cook until the pasta is cooked al dente (adding water if the soup becomes too thick).

Serve in bowls topped grated Italian cheese and a sprinkling of chopped parsley.