This Escarole Soup recipe is a healthy, flavor-packed, satisfying soup with pasta. An Italian classic perfect for a warming, weeknight meal.
I love soup, and I especially love a hearty soup with lots of pasta. I am known for my soups and friends and family frequently request them when they come for lunch or dinner.
Escarole soup is something my Italian grandmother made for me as a child. It's one of my favorite things in the world. This soup is personally very close to my heart and I'm so pleased to be able to share it with you! I know you'll love it as much as I do!
Why This Recipe Works
Onion and garlic give this soup a classic Italian flavor that can't be beat!
Using the rind of the parmesan cheese adds an extra level of flavor.
The lemon juice cuts the bitterness in the greens.
What is Escarole?
Escarole is part of the chicory family. It looks very similar to lettuce. It's a leafy green vegetable full of nutrients.
Escarole can be found year long at many grocery stores and farmers' markets when in season (in the fall and winter). Sizes can range from grapefruit-sized to large leafy heads that are similar to lettuce.
Escarole Buying Guide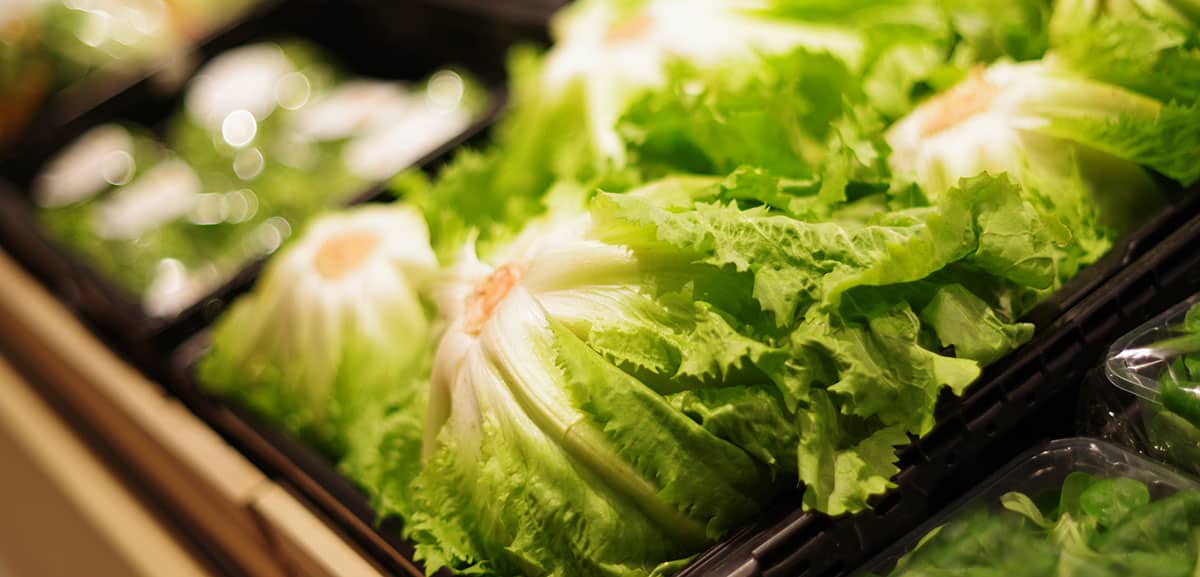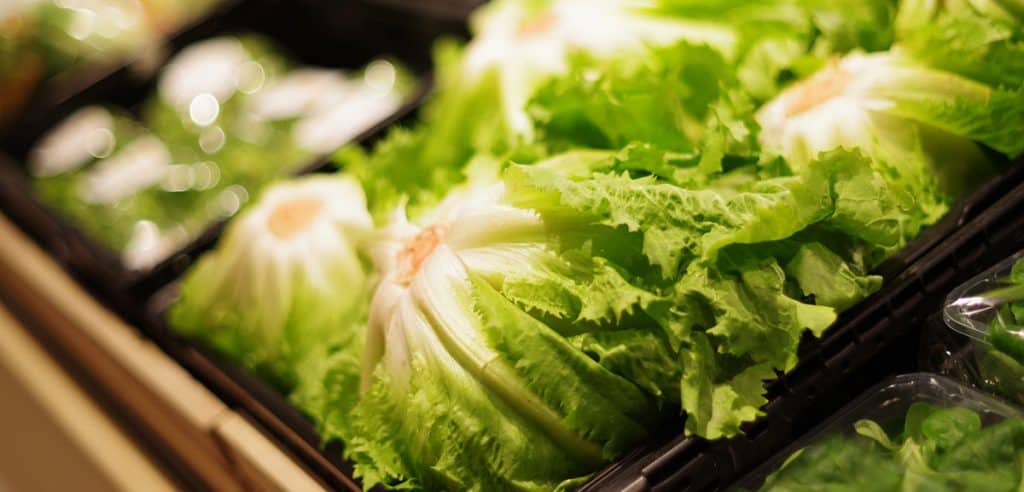 For the freshest escarole, look for it in cooler weather months. Choose heads with firm, bright leaves without signs of wilting.
I have grown my own escarole (you can read more about that here). So I know it can be very bitter when it's not trimmed. When buying from farmers' markets you may have to remove most of the outer leaves to reveal the heart of the vegetable.
Cleaning Escarole
Fresh from the store, escarole can be very dirty so it's best to soak the leaves in water. I wash and fill my sink with cold water and soak the leaves for 10 minutes to make sure the soil has time to come off the leaves. Then to dry it, I run it through my salad spinner. Otherwise, drying by patting with paper towels works just as well.
How to Make Escarole Soup
Cook onion and garlic until soft.
Saute escarole until soft.
Add lemon juice, chicken stock, Parmesan cheese and salt.
Simmer the soup while cooking the pasta separately.
Combine soup and cooked pasta.
Season to taste.
Serve and enjoy!
Step By Step Instructions
Start by preparing and washing the escarole.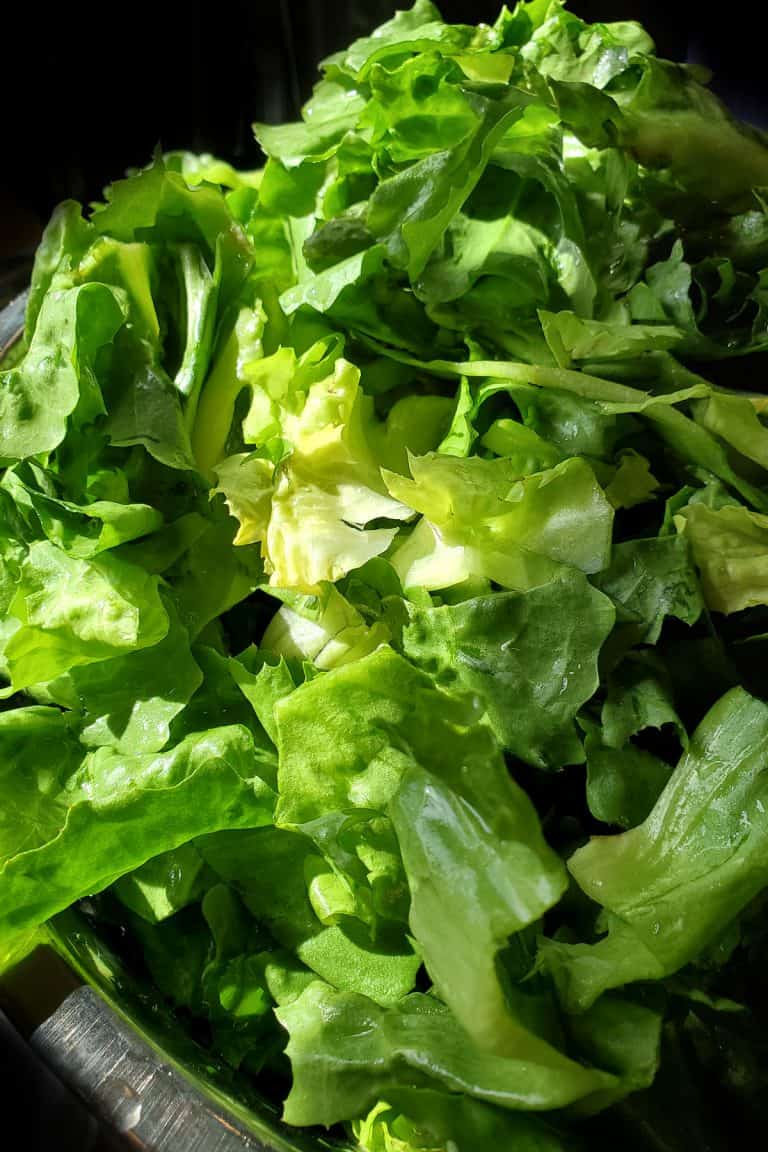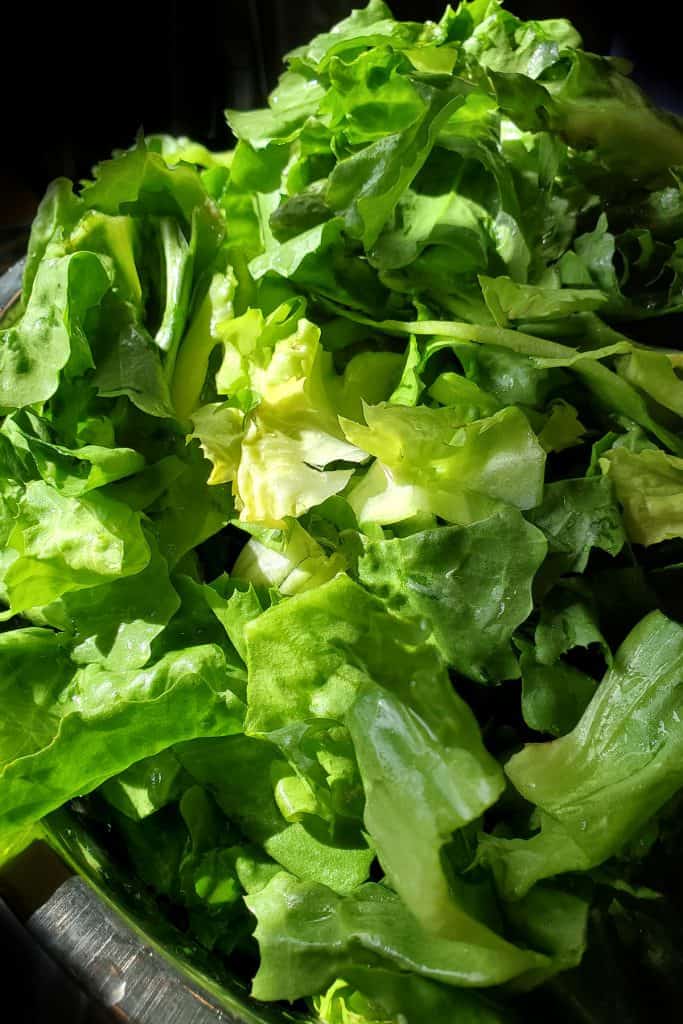 Heat 2 tablespoons of olive oil in a large pot over medium heat. Add the onion and cook until soft. Then add the garlic.
Cook the garlic another minute. Then add the stock, salt and pepper, lemon juice, and Parmesan cheese rind.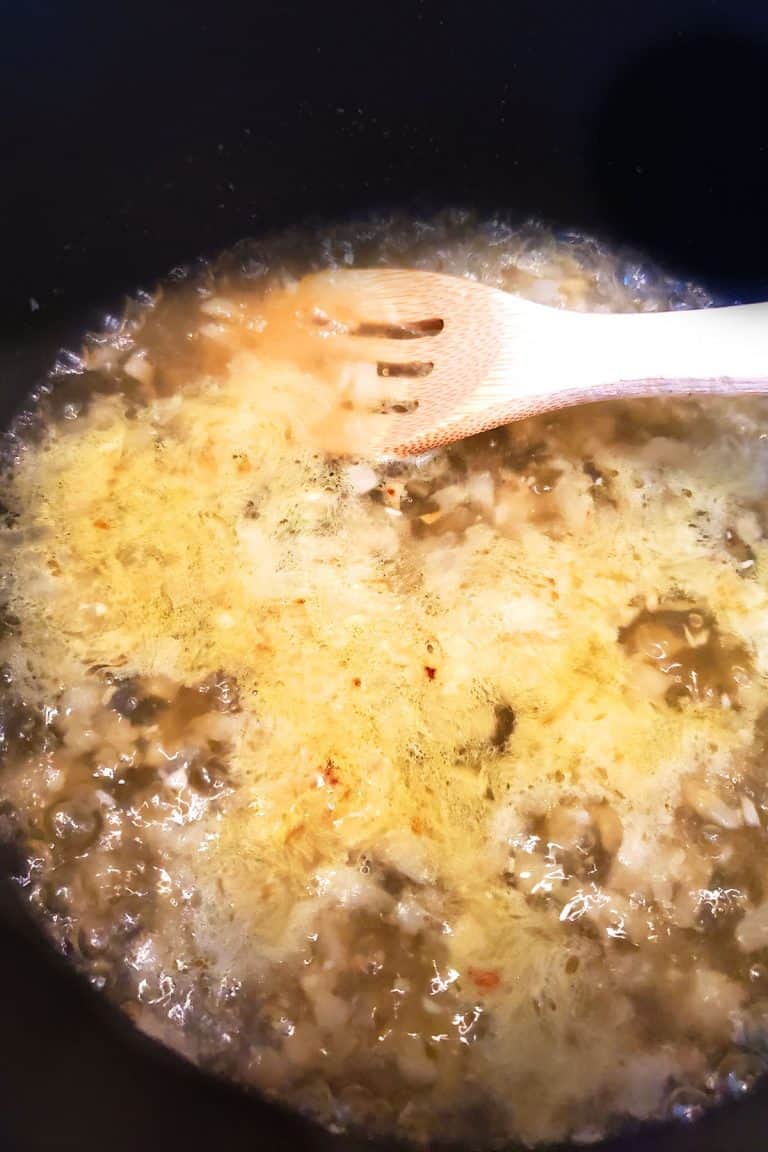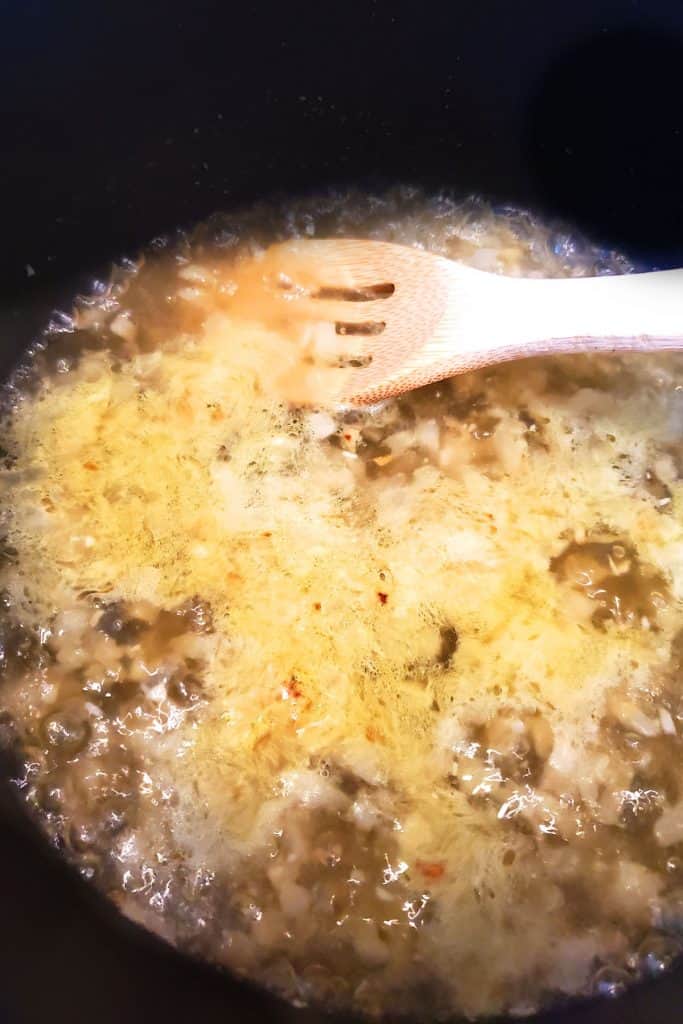 Add the escarole and allow to wilt into the stock (about 2 minutes).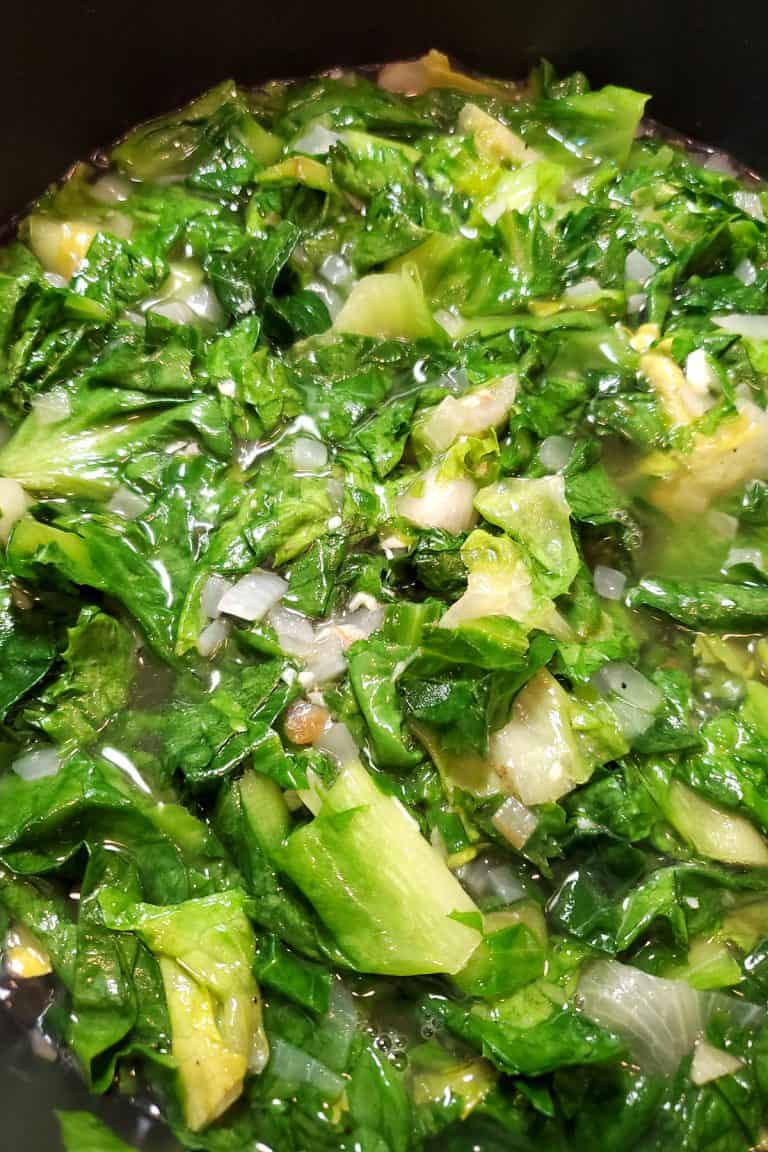 Cover and simmer until the escarole is the softness you prefer. While the soup simmers, cook the pasta and serve sprinkled with freshly grated parmesan cheese.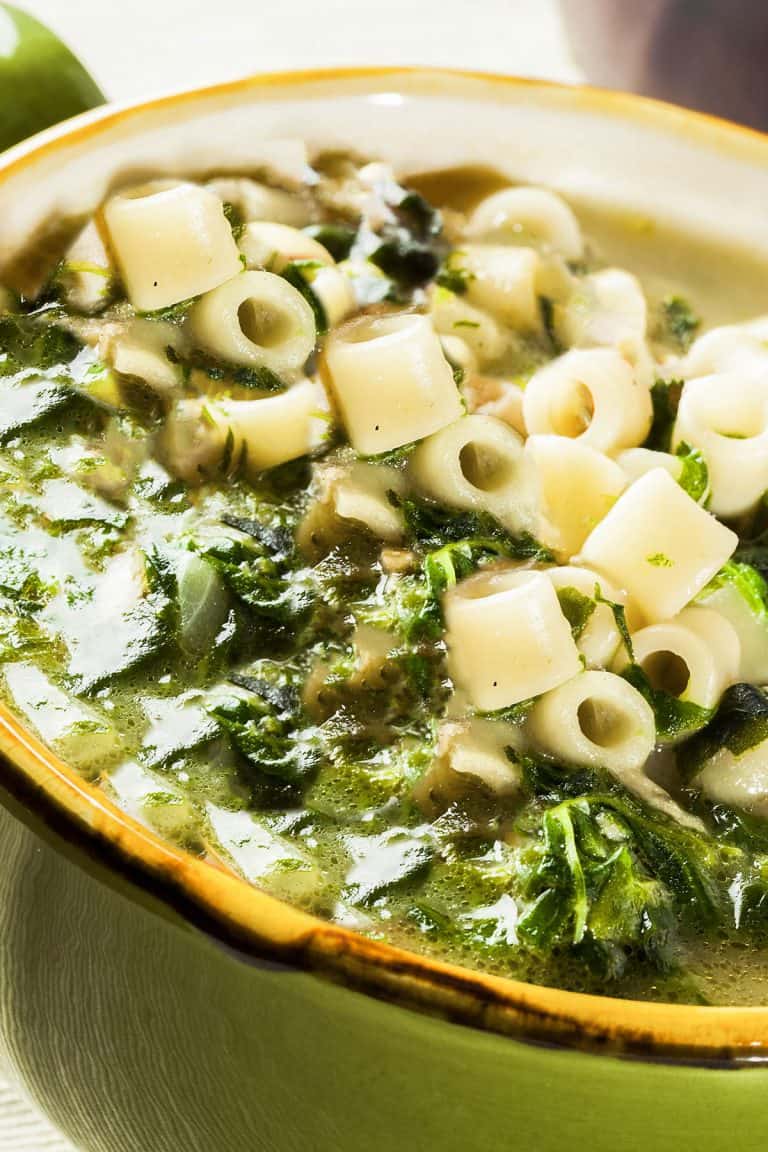 Erren's Top Tips
Add the lemon at the end as lemon can be bitter when cooked.
Don't have a lemon? You can use vinegar in its place or use baking soda to cut the bitterness of the escarole by adding it to the soup a half teaspoon at a time tasting in between until the bitterness has been neutralized.
Be careful when cooking the garlic; it can burn easily which can ruin the dish.
Other Italian Dishes You'll Love
FAQs
Why is my escarole bitter?
Escarole is part of the endive family and has a mildly bitter flavor. To reduce the bitter flavor try not to overcook it.
Why is it called Italian wedding soup?
This soup is thought to have originated in Naples and the original Italian name is Minestra Maritata, which means "married soup" because of the perfect "marriage" of the ingredients.
How can I make this soup vegetarian?
You can make this soup vegetarian by simply replacing the chicken stock with vegetable stock.
Stay Updated
Receive new recipes & dinner ideas straight to your inbox!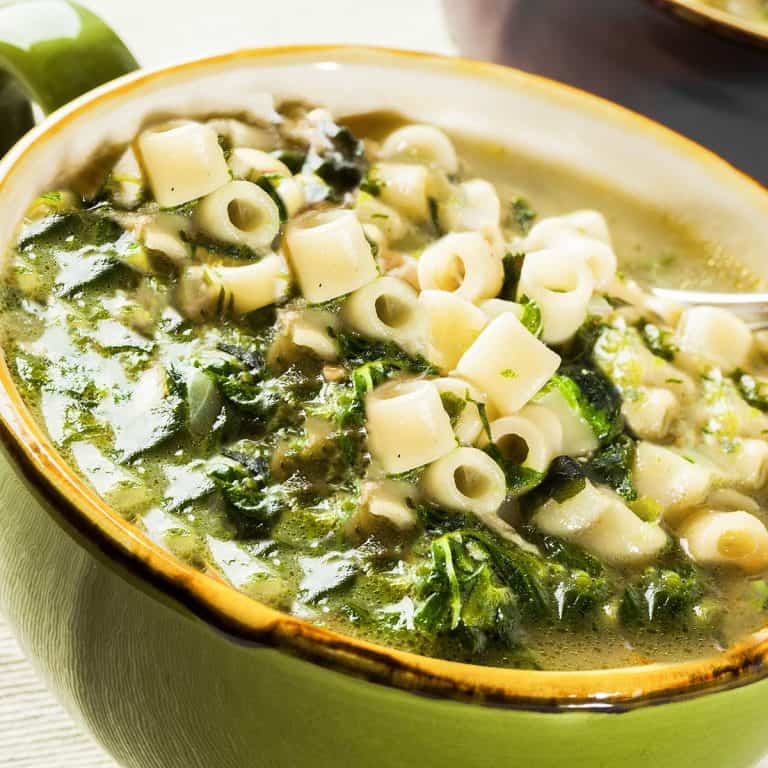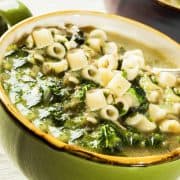 Let's Make Escarole Soup
This wonderful Italian soup is a hearty addition to your weeknight meal rota.
Prep15 minutes
Cook20 minutes
Total35 minutes
Ingredients
2 tablespoons olive oil
1 large onion chopped
3 garlic cloves chopped
1 pound escarole cleaned & chopped
1 tablespoon lemon juice Optional – used to cut the bitterness
4 cups chicken stock
1 ounce parmesan cheese rind about 2 inches (optional)
Salt & Pepper to taste
8 oz pasta
Parmesan cheese grated for serving
Instructions
Heat 2 tablespoons of olive oil in a large pot over medium heat.

Add the onion and cook until soft.

Add the garlic and cook another minute.

Add the chicken stock, Parmesan cheese rind, and a pinch of salt.

Add the escarole and allow to wilt about 2 minutes.

Cover and simmer until the escarole is the softness you prefer.

While the soup simmers, cook the pasta according to package instructions and set aside until needed.

Add the lemon juice, and taste for seasoning then season the soup with salt to taste.

Ladle onto the pasta in soup bowls and serve hot.
Tips + Notes
Escarole can be very bitter and you should remove most of the outer leaves to reveal the heart of the vegetable. The lemon juice in my recipe is for those who find escarole too bitter, but it can easily be omitted or adjusted to personal taste.
Nutrition Information:
Calories: 421 (21%)| Carbohydrates: 58g (19%)| Protein: 18g (36%)| Fat: 13g (20%)| Saturated Fat: 3g (19%)| Cholesterol: 12mg (4%)| Sodium: 487mg (21%)| Potassium: 784mg (22%)| Fiber: 6g (25%)| Sugar: 7g (8%)| Vitamin A: 2513IU (50%)| Vitamin C: 12mg (15%)| Calcium: 172mg (17%)| Iron: 2mg (11%)
Erren's Kitchen is written and produced for informational intentions only. We are not certified nutritionists, and the nutritional information found on this site has not been assessed or authorized by a nutritionist or the FDA. The nutritional information found in our recipes is offered as an estimate and should not be considered a guarantee or fact. The estimated data is provided as a courtesy and calculated through a third-party online nutritional calculator, spoonacular API. Although we do our best to provide accurate nutritional information, these figures should be considered rough estimates. Many factors, such as brands or products purchased and the nutritional fluctuations that naturally occur in fresh produce, can alter the effectiveness of the nutritional information in any recipe. Furthermore, various online calculators provide different results depending on their particular algorithms and nutrition fact sources. To obtain the most precise nutritional information in a provided recipe, you should calculate the nutritional information with the exact ingredients you are using when preparing the recipe using your preferred nutrition calculator.
This recipe was originally posted in 2014, but was re-published with new information and photos in 2021.