This Coconut Cream Pie recipe makes a dazzling dessert filled with coconut custard and topped with whipped cream and toasted coconut.
Once you try this American classic, it will soon become a family favorite. I'll be honest, before creating this cream pie recipe, I had never tried coconut cream pie!
I don't know how I grew up in America and never once had this amazing dessert, but it's the truth. I love coconut and have other great recipes, such as Coconut Lovers Dream Cake with Coconut Buttercream Frosting and Homemade Coconut Mounds Cups.
Why This Recipe Works
Using coconut cream and flaked coconut in the custard makes for a robust and delicious filling.
Using a stabilized whipped cream topping finishes off this delicious pie beautifully.
Topping with toasted coconut ensures the ultimate coconut experience that can't be beat!
How to make coconut cream pie
Make the pastry. Blind bake.
Prepare the coconut custard.
Fill the pie crust.
Allow to set.
Cover with whipped cream and toasted coconut.
Serve & enjoy!
Step By Step Instructions
To make this coconut dream desert start with preparing the pie crust. For more details on making your own, see my post on how to make pie crust.
Roll it out and place it in the pan for ready for baking.
I used my own pie crust that I always have in the freezer, but if you're short on time, you can always use store-bought.
Blind bake the crust.
Once the base is baked and cooled, I made the coconut custard.
Cover with plastic wrap to cool. Be sure to make sure the plastic touches the filling to keep it from forming a skin.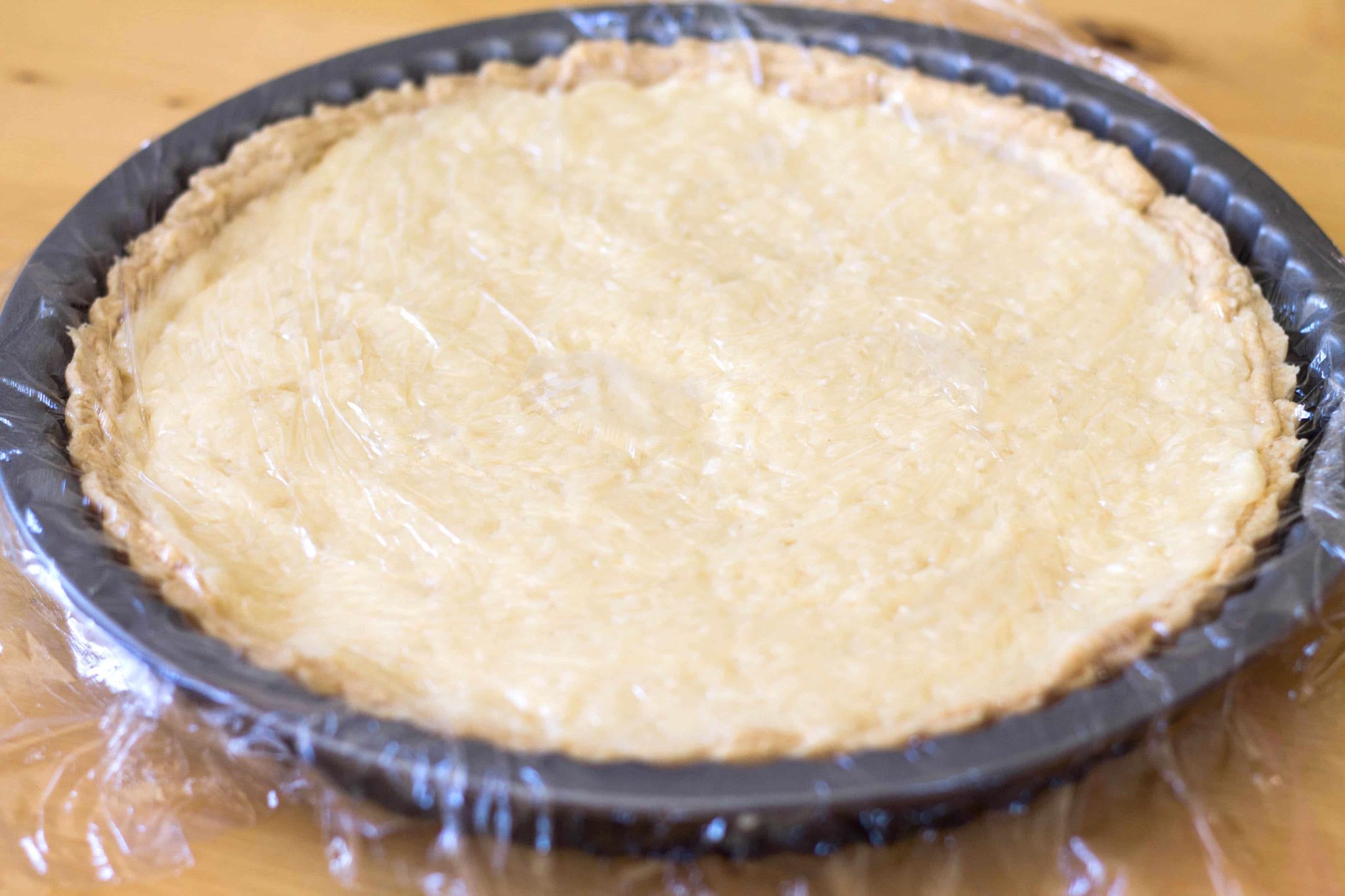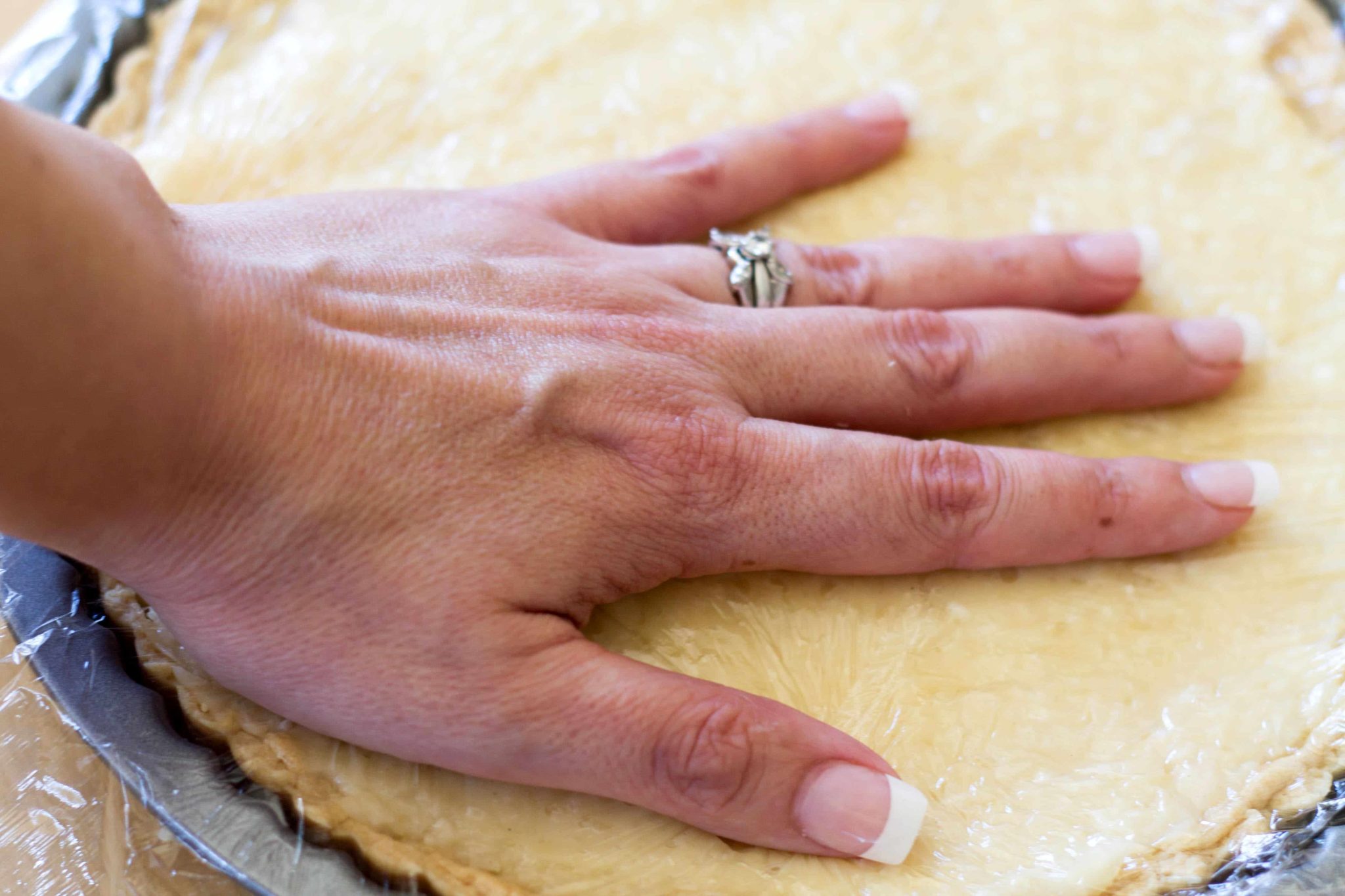 Once it's cooled and set, add the topping.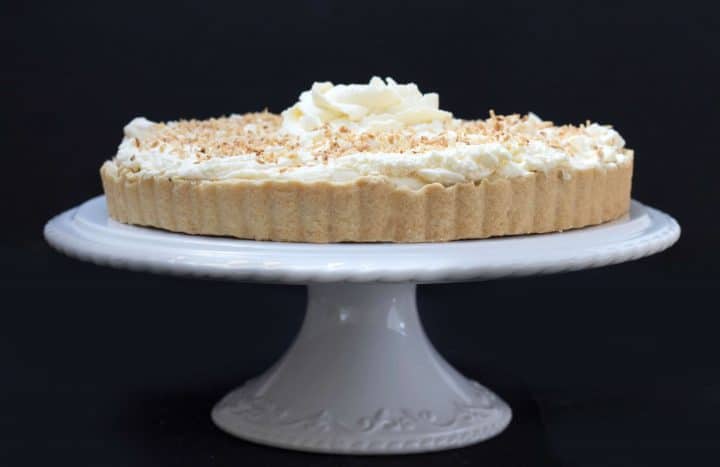 FAQs

What is the difference between coconut cream pie and coconut custard pie?
The difference is that Custard Pie is baked, and Cream Pie does not.
Can you freeze homemade coconut cream pie?
Coconut cream pie doesn't freeze well and is not recommended.
How long will Coconut Cream Pie last in the fridge?
The freshly baked pie will keep for about 3 to 4 days covered loosely with foil or plastic wrap.
Stay Updated
Receive new recipes & dinner ideas straight to your inbox!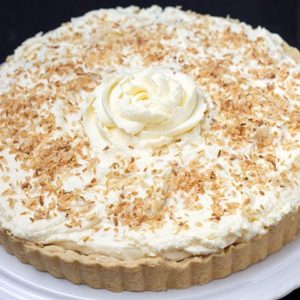 Let's Make Coconut Cream Pie
A delightfully indulgent dessert that you can make ahead – a perfect way to finish off a special meal
Prep30 minutes
Cook45 minutes
Total1 hour 15 minutes
Ingredients
For the pie crust:
1¾ cups all-purpose flour
½ cup butter
1 teaspoon salt
1 teaspoon sugar
3-6 tablespoons ice water
For the custard:
½ cup superfine or granulated sugar
¼ cup all-purpose flour
1 14-ounce can coconut cream
4 egg yolks
3 tablespoons butter
1 cup sweetened flaked coconut
1½ teaspoons vanilla extract
For the whipped cream:
2½ cups Whipping Cream
¼ cup powdered sugar
1 teaspoons vanilla extract
1 tablespoon skimmed milk powder optional
½ cup toasted coconut
Instructions
Preheat the oven to 425°F/220°C
For the crust:
Sift the flour onto some baking paper and then add it to a food processor.

Add the sugar, and salt and pulse a couple times to mix.

Add about half of the butter and pulse several times.

Then add the rest of the butter and pulse 6 to 8 times until the largest pieces of butter are about the size of large peas.

Sprinkle the mixture with about 2 tablespoons of the ice water (leaving the cubes behind) then pulse again.

Then add more ice water, a tablespoon at a time, pulsing once or twice after each addition until the dough just barely begins to hold together.

You know that the mixture is ready if when you pinch some together with your fingers and it holds together. Be careful with the amount of water you add, too much and the crust will be tough.

Empty the crumbly dough mixture from the food processor onto a clean, dry, floured surface.

Form a mound with the mixture and knead briefly (just a couple of turns). Form into a ball, cover with plastic wrap and chill for at least 1 hour (although it can be up to a few days or even frozen at this point).

Once chilled, let the dough sit at room temperature for 10 minutes before rolling.

Roll out the crust on a lightly floured surface to about ¼ inch thick.

Fit into a 9-inch pie plate, prick bottom and sides of piecrust with a fork.

To blind bake the crust:

Line the pie with baking paper. Make sure it's snug the lining right up against the edges and sides of the pie.

Fill the pie with weights (this can be store bought weights, raw rice, dried lentils or dry beans). Pour the pie weights into the pie dish. Make sure they cover the bottom of the pie and press against the sides of the pie. This will keep the pie from puffing up or shrinking.

Bake for 10 minutes and remove the weights and baking paper.

Return to the oven and bake for another 5 minutes or until golden brown.
For the filling:
Combine 1/2 cup sugar and flour in a heavy saucepan. Whisk together coconut milk and egg yolks.

Gradually whisk egg mixture into sugar mixture; bring to a boil over medium heat, whisking constantly. Boil 1 minute (this will make a thick pudding like custard); remove from heat.

At this stage, if there are any lumps, you can strain the custard into a bowl.

Stir in butter, 1 cup coconut, and vanilla.

Pour into the cooled crust, cover with plastic wrap, gently pressing it directly on filling in pan; cool for at least 30 minutes or until set.
For the whipped cream topping:
Add powdered sugar, skimmed milk powder (if using – This is to help give the whipped cream structure so it doesn't flatten out too quickly), and vanilla to the cream.

Using a food processor, whip the cream until it thickens (this doesn't take long at all so check often).

Separate into two portions.

In one portion, ad 1/2 pf the toasted coconut and spread over the pie.

Spread the remaining whipped cream over the pie and sprinkle with the remaining toasted coconut.
Nutrition Information:
Calories: 451 (23%)| Carbohydrates: 33g (11%)| Protein: 4g (8%)| Fat: 33g (51%)| Saturated Fat: 21g (131%)| Cholesterol: 161mg (54%)| Sodium: 332mg (14%)| Potassium: 111mg (3%)| Fiber: 1g (4%)| Sugar: 14g (16%)| Vitamin A: 1155IU (23%)| Vitamin C: 0.4mg| Calcium: 54mg (5%)| Iron: 1.3mg (7%)
Erren's Kitchen is written and produced for informational intentions only. We are not certified nutritionists, and the nutritional information found on this site has not been assessed or authorized by a nutritionist or the FDA. The nutritional information found in our recipes is offered as an estimate and should not be considered a guarantee or fact. The estimated data is provided as a courtesy and calculated through a third-party online nutritional calculator, spoonacular API. Although we do our best to provide accurate nutritional information, these figures should be considered rough estimates. Many factors, such as brands or products purchased and the nutritional fluctuations that naturally occur in fresh produce, can alter the effectiveness of the nutritional information in any recipe. Furthermore, various online calculators provide different results depending on their particular algorithms and nutrition fact sources. To obtain the most precise nutritional information in a provided recipe, you should calculate the nutritional information with the exact ingredients you are using when preparing the recipe using your preferred nutrition calculator.