This recipe for Citrus Punch makes a sweet and refreshing drink that kids and adults will love in equal measure! Best of all its made entirely with fresh fruit.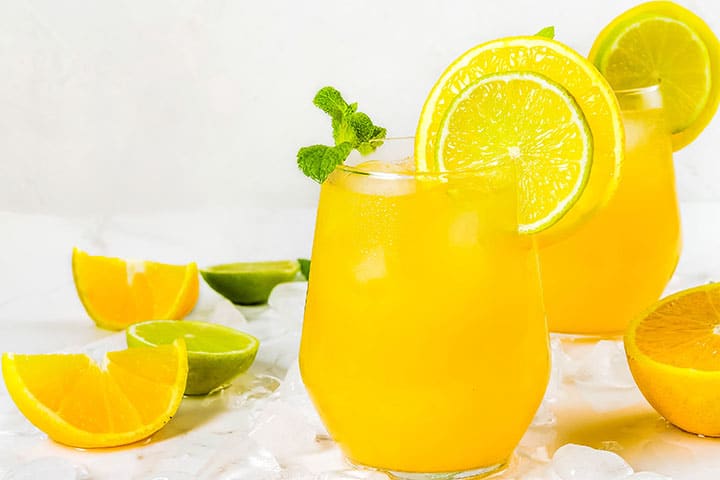 One of the things I love about summer is the fresh, sweet citrus available at grocery stores. It just screams fresh juice and that's what makes this punch a step above the others. It uses fresh juice.
When I was a kid, I loved orange Hi-C. The thought of the big can with the triangle-shaped hole in it brings back so many memories of summer vacation, poolside lunches and days at the beach.
Yes, if you're young and don't know it, back in the day, it came in a big can that you had to use the pointy side of a handheld can opener to open it!
If you gave me a glass of Hi-C today, I'd maybe still love it (although I haven't had in since I grew up), but let's face it, it's probably not the healthiest stuff on earth. I could be wrong.
They don't sell it in the UK, so I don't have a bottle to read the label. For all I know it's full of natural juices, but I'm going to go out on a limb here and guess it's not.
I created this citrus punch to make for my son, so he has a drink to look back on that will throw him back summer days gone by.
Why this recipe works:
The fresh fruit gives it a fruity goodness you can't get with store-bought.
The mixture of sweet orange juice, sour lemons, and tart limes makes a delicious combination.
It took me a while to come up with the right combination of flavors, but in the end, I decided that a good combination of each fruit worked best. I tried not to add too much sugar. I even tried it with honey instead, but I didn't think it worked. Sometimes good old fashion sugar is just what you need instead of worrying about what's healthy and what's not. If you're worried about the sugar content though, feel free to play around with the recipe and make it work for you. The result of this recipe was a sweet and refreshing punch that my son adored and I'm hoping to make it a summer tradition in my family and yours.
Tips For The Perfect Citrus Punch
Pull out that juice machine you bought for that fad diet or that you got for Christmas or as a wedding gift. It's the perfect gadget for recipes that call for fresh fruit juice.
Be Sure to chill well before serving. The colder the juice, the slower your ice will melt, watering down your drink.
Add the fruit to the glass, not the pitcher. This will keep the fruit from breaking down too much and clouding up your whole batch and leaving you with mushy fruit floating in your drink.
The Best Oranges For Juicing:
Valencia Oranges are a popular choice because most commercial orange juice is made of Valencia oranges. They are seedless which keeps things easy.
Navel Oranges are large, juicy oranges that make wonderful juice. They also lack seeds which is convenient.
Blood Oranges have a slightly lower acid content than the other oranges which makes them a great choice for juice. The deep color makes a gorgeous citrus punch.
Choosing The Best
Citrus

For Juice:
Choose citrus fruits that are heavy for their size and have a good fragrance.
The skin should be bright in color with no wrinkles.
Thinner skinned citrus fruits will yield more juice than thicker.
The juiciest citrus fruits are the ones that have to give when you squeeze them. They will have more juice and less pith than their firmer companions.
Never Miss A Single Recipe!
Join the free Erren's Kitchen mailing list & get the latest tasty goodness straight to your inbox!
★ Did you make this recipe? Please give it a star rating below!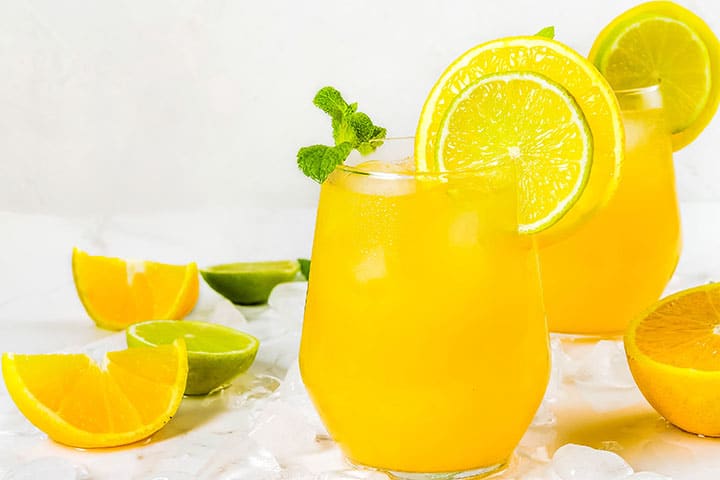 Servings:
10
Large Glasses
Ingredients
8

cups

fresh orange juice

4

cups

fresh lemon juice

2

cup

fresh lime juice

2

cups

of boiling water

1½

cups

sugar

sliced fruit for garnish
Instructions
Pour fruit juices into a large pitcher (a gallon size will be perfect).

In a small saucepan, boil 2 cups of water, add the sugar and stir until dissolved.

Add the sugar mixture to the juice mixture and stir well.

Store in refrigerator until chilled. Serve over ice with sliced fruit.
Nutrition
Calories:
238
kcal
|
Carbohydrates:
61
g
|
Protein:
1
g
|
Sodium:
6
mg
|
Potassium:
553
mg
|
Sugar:
49
g
|
Vitamin A:
425
IU
|
Vitamin C:
151.5
mg
|
Calcium:
36
mg
|
Iron:
0.5
mg
Update Notes: This post was originally published in July of 2014, but was republished with an updated recipe, new photos, and tips in June of 2018.