For the ultimate indulgence look no further than this recipe for Chocolate Chip Caramel Cake from Erren's Kitchen.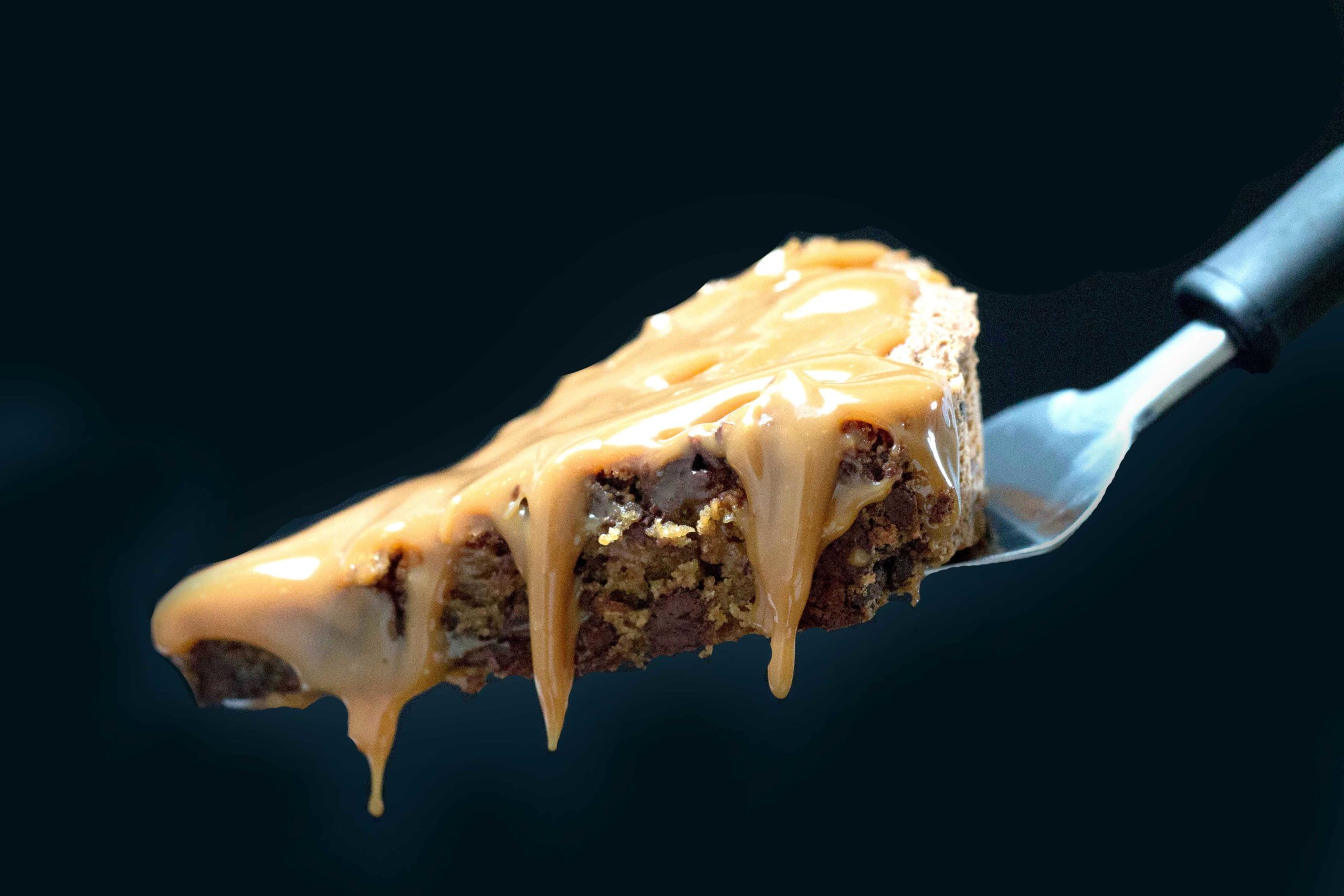 This amazing cake makes an impressive centerpiece for any party or family gathering.
This recipe was a mistake. A beautiful mistake, but a mistake all the same.
I was developing a recipe for my son's teacher as an end of year gift (that recipe is coming soon). With my first run of the recipe, the cake wasn't sweet enough for what I was going for. I didn't want to waste it though and since I was having a little party for my son's friends and knew I'd have parents popping in, I wanted to find a way to save the cake and make it something everyone would enjoy. Who doesn't like caramel, right?
So, I whipped some up, poured it over the cake and it was a roaring success! Everyone loved it so that's how my mistake became this glorious dessert!
If you're going to pour caramel over a cake, my opinion is that it shouldn't be too sweet so I left the recipe just as it was in my first draft.
It will look like a lot of sugar because it calls for three different types, but each type of sugar is a fairly small amount. I used both dark and light brown sugar because I wanted different depths of flavor and the superfine, granulated sugar adds a bit more sweetness.
I also used bittersweet chocolate which with the caramel, balances it all out just perfectly. If you like your chocolate sweeter, feel free to use whatever chocolate chips you'd like.
This is a truly delicious dish and I hope you enjoy it!
If caramel is your thing, I have an equally fabulous recipe for Caramel Banana Cake, give it a go, you just can't lose with caramel.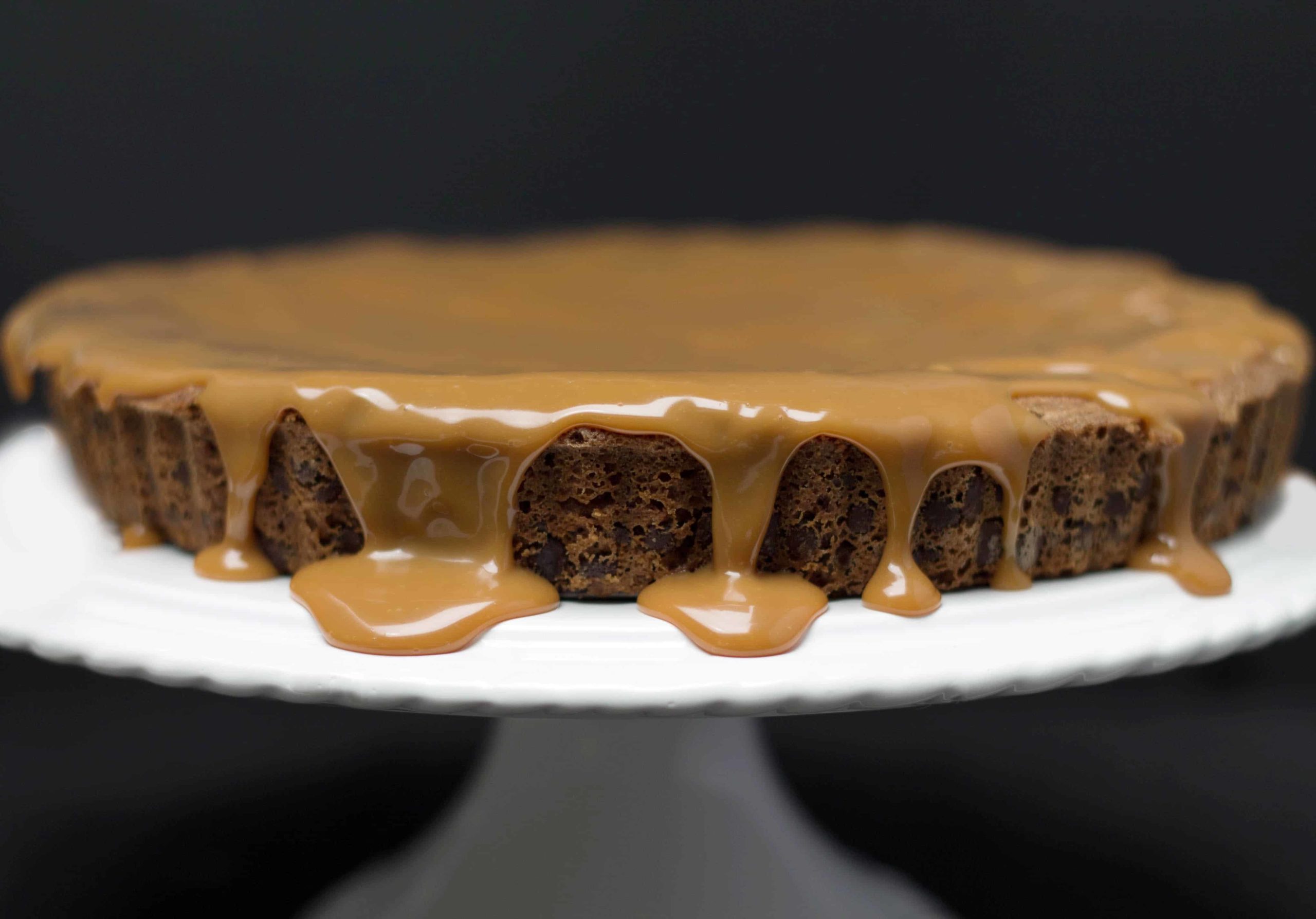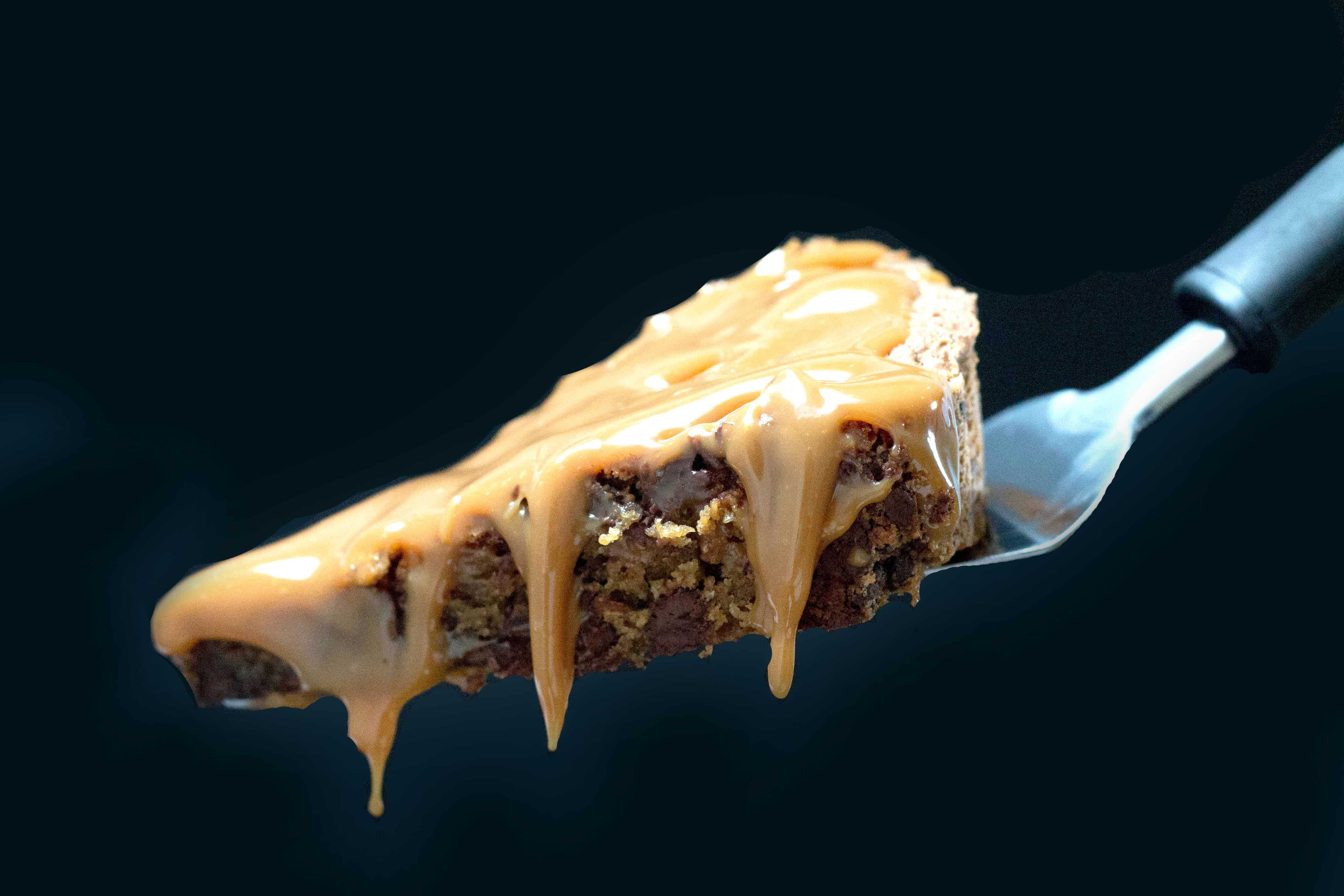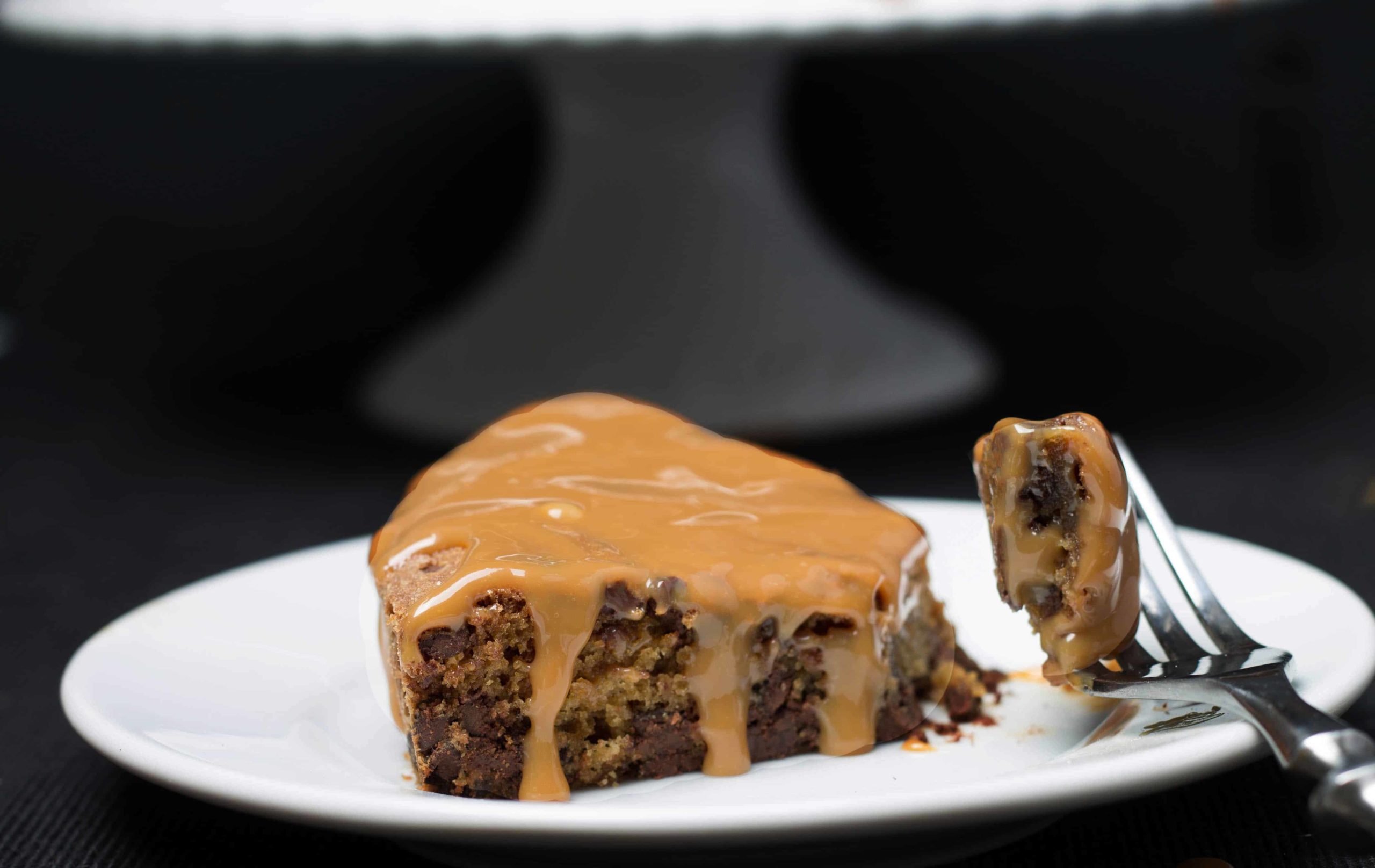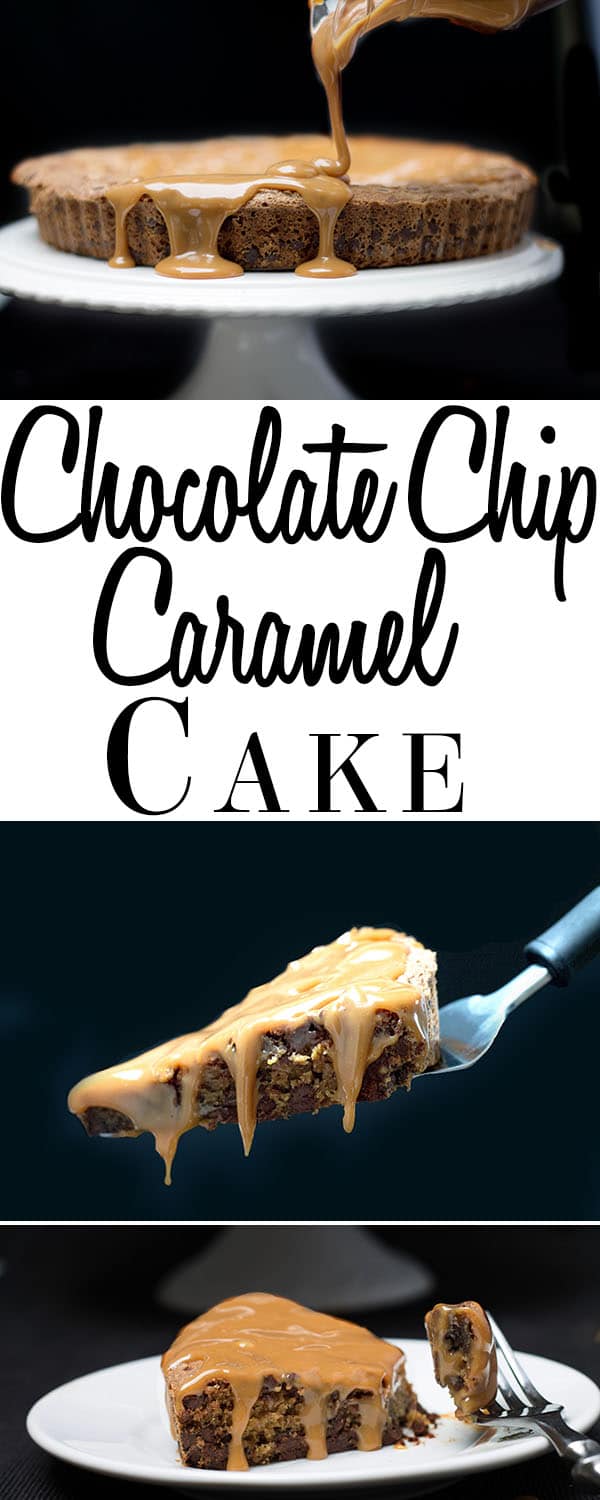 Stay Updated
Receive new recipes & dinner ideas straight to your inbox!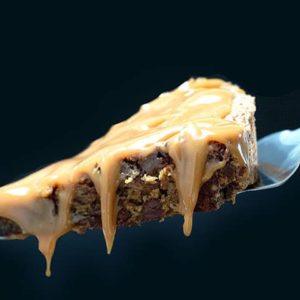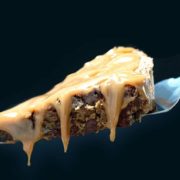 Let's Make Chocolate Chip Caramel Cake
This wonderfully indulgent cake with chocolate chip and caramel is an absolute delight!
Prep20 minutes
Cook30 minutes
Total50 minutes
Resting Time: 30 minutes
Serves: 8
Ingredients
For the cake:
1 cup all-purpose flour
½ teaspoon salt
2 teaspoon baking powder
½ cup butter softened
½ cup light-brown sugar packed
¼ cup dark brown sugar
¼ cup superfine sugar or granulated sugar
3 eggs at room temperature
1½ teaspoons vanilla extract
1 cup bittersweet or semisweet chocolate chips
For the caramel topping:
½ cup superfine sugar or granulated sugar
2 tablespoons golden syrup or corn syrup
1 stick/113g butter
¼ cup milk
2 teaspoons vanilla extract
Instructions
Preheat the oven to 350 f/ 170c degrees.

Grease a 9-inch silicone pan.

Sift the flour, salt, and baking powder together into a large mixing bowl.

In a large mixing bowl, beat the butter, brown sugar, dark brown sugar and superfine sugar until fluffy.

Mix in the eggs one at a time, then add the vanilla.

Mix in the flour mixture by hand until combined.

Fold in the chocolate chips.

Spread the batter into the prepared pan and smooth the top. Bake for 25-30 minutes or until set golden brown.

Set aside to cool.
For the caramel:
Combine the sugar and syrup in a medium saucepan. Cook on medium heat, stirring constantly until it becomes a light caramel color.

Add the butter & milk, stir until smooth. Remove from heat and mix in the vanilla.

Set aside to cool slightly, then pour over the cooled cake.

Allow caramel to cool completely.

Cut into slices and serve.
Nutrition Information:
Calories: 657kcal (33%)| Carbohydrates: 108g (36%)| Protein: 6g (12%)| Fat: 22g (34%)| Saturated Fat: 13g (81%)| Cholesterol: 96mg (32%)| Sodium: 299mg (13%)| Potassium: 363mg (10%)| Fiber: 2g (8%)| Sugar: 91g (101%)| Vitamin A: 505IU (10%)| Calcium: 141mg (14%)| Iron: 2.8mg (16%)