This recipe for Chicken, Ham & Leek Pot Pie cooks in the slow cooker and is finished in the oven. It turns pot pie into an amazing weeknight dinner!
When I first moved to England, the word pie really confused me.
People talked about pie and they never meant sweet pies. It was always a pork pie, or steak & mushroom and I quickly realized that pie in this country is not only different, but it's AMAZING! Some pies are topped with pastry, others with potato.
I make a baked casserole that's very English, called a hot pot. Just click on this link for, Cottage Pie Topped with Scalloped Potato Gratin, it's delicious!
Don't worry, I'm on a diet now so you'll get plenty of that sort of thing, but this was one of my last hurrah recipes of comfort food that I had to have before starting my diet. So, I give you comfort food at it's finest – who doesn't love pot pie in the cooler months?
This one is made in the slow cooker and doesn't go in the oven until the end so you can throw it on before you go to work and come home to homemade pot pie!
It starts with ham chicken thigh meat and a ham steak cut into chunks…
They get browned in a frying pan in a little oil and then coated in flour.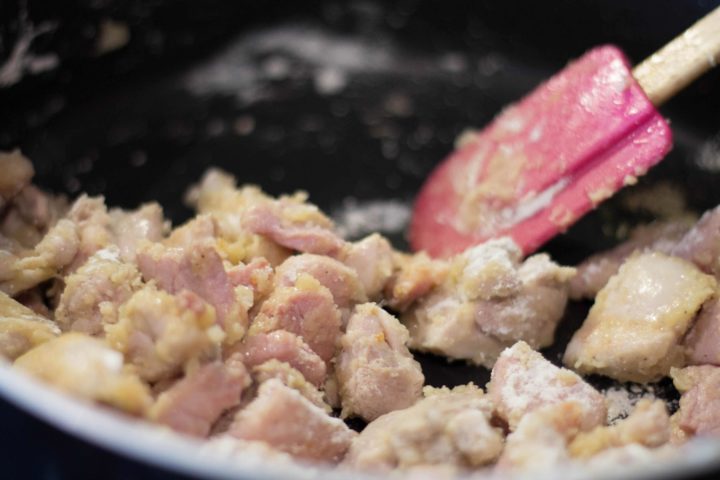 Add stock, bring to a boil, thicken and pour the whole thing into the slow cooker.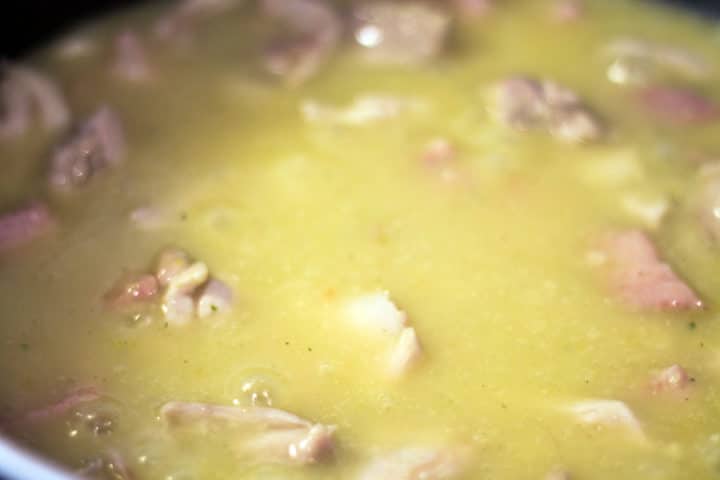 Then go the vegetables. This can be made with just leeks. I've done it before and it's amazing, but I know people like carrots and potatoes in their pot pies so I threw them in too.
The leeks, onion, and carrot get sauteed, seasoned with salt and pepper and then I add parsley and the potatoes before adding it all to the slow cooker with the sauce and meat.
Cook it on the lowest setting for 3 – 6 hours (not all slow cookers are created equal). When you're ready, separate the mixture into personal-sized casserole dishes (or one big one), top with puff pastry, and crimp the edges.
I added a little decoration with the spare pastry, but that's optional. Prick the pastry with a fork.
Brush with an egg wash.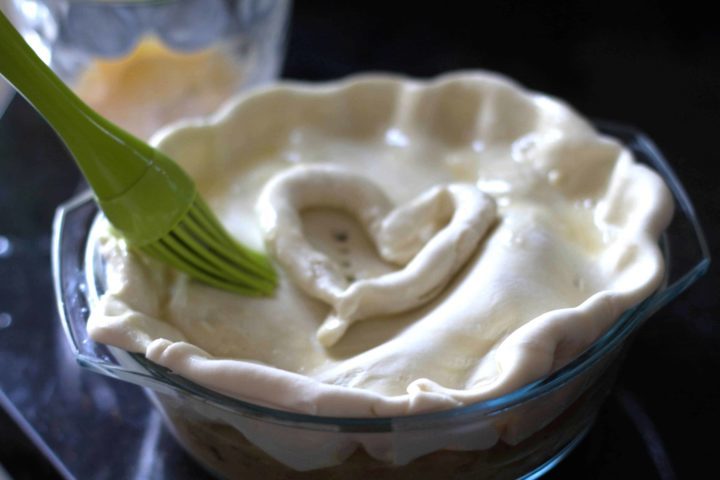 Bake until golden brown.
And enjoy – just be careful – it's hot!
Other Great Comfort Foods
Stay Updated
Receive new recipes & dinner ideas straight to your inbox!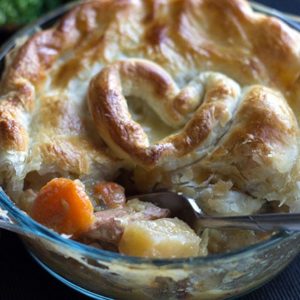 Let's Make Chicken, Ham Leek Pot Pie
A wonderful recipe that will become a favorite in your home, your family will ask for it time and time again.
Prep20 minutes
Cook5 hours
Total5 hours 20 minutes
Ingredients
For the filling:
4 cups chicken stock
4 chicken thighs skinned
4 tablespoons olive oil
3 leeks trimmed and cut into slices
1 large onion chopped
2 tablespoons flour
8 ounces ham steak cut into chunks
2 carrots peeled and sliced
3 potatoes peeled and cubed
salt and pepper to taste
a good handful of fresh parsley chopped
1 package frozen puff pastry thawed
1 tablespoon egg beaten with 1of cold water
Instructions
Heat 2 tablespoons of the oil in a large frying pan. Add the chicken and ham and brown the meat.

Sprinkle the flour over the browned meat and stir to coat.

Add the stock, bring to a boil to thicken and add the mixture to the slow cooker.

add the remaining oil to a separate pan over medium heat. Stir in the leeks & onion and fry gently for two minutes, stirring occasionally until just softened. Add the carrots and cook for a further minute.

Add the chopped parsley and potatoes.

Season the mixture, to taste, with salt and black pepper.

Pour into the slow cooker with the sauce mixture.

Cook on low for 3 - 6 hours.

Preheat the oven to 400f/200c

Roll the pastry to about a 1/4 inch thick (if not ready-rolled)

Separate the mixture into 4 individual casserole dishes (or one big one)

Cover each with pastry, crimp the sides, prick the center with a fork and brush with the egg wash.

Bake for 30-35 minutes or until golden brown.

Allow to cool slightly before serving (about 5 minutes).
Nutrition Information:
Calories: 1040kcal (52%)| Carbohydrates: 74g (25%)| Protein: 46g (92%)| Fat: 62g (95%)| Saturated Fat: 14g (88%)| Cholesterol: 157mg (52%)| Sodium: 1359mg (59%)| Potassium: 1622mg (46%)| Fiber: 7g (29%)| Sugar: 9g (10%)| Vitamin A: 6315IU (126%)| Vitamin C: 48.8mg (59%)| Calcium: 126mg (13%)| Iron: 10.4mg (58%)