These crave-worthy, Chewy Chocolate Hazelnut Cookies are absolutely irresistible. They combine chocolate chips and Nutella, creating a match made in heaven!
Over the summer, I had a college student come and help with cleaning the house. He came once a week and did the heavy lifting for me. I suffer from arthritis and my house has three floors; needless to say, it's not always easy for me. Anyway, Jan was a really big help and it was such a pleasure having him around. He always arrived with a smile and always hung around for a chat. Every week I'd have a new recipe for him to try and now that he's gone back to school, I really miss getting his input on my baked goods.
The week before Jan left, I asked him if he had any requests for his last week. He requested American cookies and these are what I came up with (as well as my Salted Caramel & Dark Chocolate Blondies). He left with a little care package that he shared with his family and friends at school and he gave me a beautiful hand-made bowl that he found on a trip to Morocco. He thought it would be great for my photography and I promised to make a tagine to photograph in it (I'll be posting that recipe soon).
I didn't want to make a basic chocolate chip cookie because everything I make these days is shared here and I've already done chocolate chip cookies. So I went through my pantry and tried to find ways to kick them up a notch. I'd say, I was pretty successful because both recipes turned out better than I could have ever hoped. So thank you Jan, for not only all your hard work but for your big smiles and baking inspiration!
To make them, I started with my classic chocolate chip recipe (with a bit less sugar as the Nutella adds sweetness.
Fold in the chocolate chips.
Followed by the Nutella, but I left it with a large marble effect so they ended up with a nice hit of hazelnut in every bite.
Now to make my lovely cookies, I used this pan:

If you're in the US, you can one like mine from Amazon by clicking here.
Or on Amazon.co.uk here: Cake Boss 1-Piece Carbon Steel 12 Cup Rounded Cookie Pan Round Braided
(As an Amazon Associate, a small commission is made from qualifying purchases).
If you want to make them as drop cookies, you can do that too. I've included instructions in the recipe.
Let them cool completely before dipping them in chocolate.
Place them on a cooling rack to set before serving, but if you're in a rush you can stick them in the fridge for 5 – 10 minutes.
This recipe makes 18 -24 cookies.
Other Cookie Recipes You'll Love
Stay Updated
Receive new recipes & dinner ideas straight to your inbox!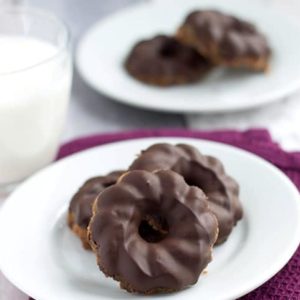 Let's Make Chewy Chocolate Hazelnut Cookies
Chewy, chocolatey, nutty, possibly the best cookie you'll ever taste!
Prep20 minutes
Cook12 minutes
Total40 minutes
Ingredients
For the cookie dough:
2½ cups all-purpose flour
1 teaspoon salt
1 teaspoon baking powder
1 teaspoon baking soda
1⅓ cups butter softened
1 cup light brown sugar packed
¼ cup granulated sugar
2 large eggs at room temperature
1½ teaspoons vanilla extract
2 cups semisweet chocolate chips
1 cup Nutella
For the chocolate coating:
1 cup semisweet chocolate chips
Instructions
Sift the flour, salt, baking soda, and baking powder together into a large mixing bowl.

In a large mixing bowl. Beat the butter, brown sugar and granulated sugar in until fluffy.

Mix in the eggs one at a time, then add the vanilla.

Mix in the flour mixture and mix until combined.

Stir in the chocolate chips by hand.

Add the Nutella and fold it in just until it forms a marble effect.

Wrap the bowl with plastic wrap and refrigerate at least one hour (but it could be left overnight).

Preheat the oven to 375 degrees F/190C.

Drop a heaping tablespoonful of the dough (about 2 inches apart) onto a baking sheet lined with parchment/greaseproof paper or press a heaping tablespoon into a greased cookie mold pan as pictured.

Bake until the cookies are golden brown around the edges but soft in the middle, about 12 minutes.

Remove the cookies from the oven and let cool 10 minutes on the baking sheets, then transfer to racks to cool completely.

If using a cookie pan as I used, let cool completely in the pan before attempting to remove them.

Once the cookies have cooled, melt the chocolate chips in the microwave in 30-second intervals (mixing in between) until smooth.

If you used a pan like mine, dip each cookie into the melted chocolate and then place on a cooling rack to set.

If you made drop cookies, you can spoon a teaspoon of the melted chocolate on each cookie and swirl it around the top of the cookie until it's covered. Place on a cooling rack to set.
Nutrition Information:
Calories: 384kcal (19%)| Carbohydrates: 40g (13%)| Protein: 3g (6%)| Fat: 23g (35%)| Saturated Fat: 15g (94%)| Cholesterol: 42mg (14%)| Sodium: 248mg (11%)| Potassium: 229mg (7%)| Fiber: 2g (8%)| Sugar: 26g (29%)| Vitamin A: 345IU (7%)| Calcium: 49mg (5%)| Iron: 2.7mg (15%)