Blueberry Pie just got a sweet and lemony makeover with this dessert recipe for Blueberry Lemon Shortbread Tart.
This tart has a buttery, lemon-infused, melt in your mouth shortbread base with a luscious, sweet blueberry filling. To top it off, a crumble of the lemon shortbread.
It's a summer dessert you won't soon forget.
I adore blueberries. Every summer, I try to find new and inventive ways to use them, such as Best Blueberry Cake (Ever) or Iced Blueberry & Lemon Scones, they're a treat to work with.
Last summer I posted my recipe for Cherry Vanilla Shortbread Tart which was a really big hit.
The other day, my husband had a craving for the cherry tart and asked me to make it. The cherries were frozen, but I had fresh blueberries so I decided to use those instead.
I'm sure substituting the cherries for blueberries in the recipe, would have been delicious with vanilla shortbread, but one of my very favorite flavor combinations is lemon and blueberry so that's what I used.
Now you might think it's kinda mean to not make what my husband asked for and maybe it is, but that's life with a food blogger – you very rarely get to eat the same dessert twice! Was he disappointed – I assure you once he tasted it, he was very happy with what he got.
Making it was really simple.
I use a food processor to make the shortbread which makes it really quick and easy.
Add a third of the dough to a greased, loose bottom tart pan.
Press it into the pan.
Spread the bade with Blueberry preserves (if you can't find it, raspberry works really well).
Cover with fresh blueberries.
Then crumble with the remaining shortbread.
Bake for 40 -45 minutes, cool, drizzle with icing and serve.
NOTE: If your Blueberry Preserves/Jam is quite sweet, you may want to skip the icing.
Love blueberries? Try some other recipes here on Erren's Kitchen.
This recipe as originally posted in July of 2016, but was updated in 2017 to add nutritional information.
Stay Updated
Receive new recipes & dinner ideas straight to your inbox!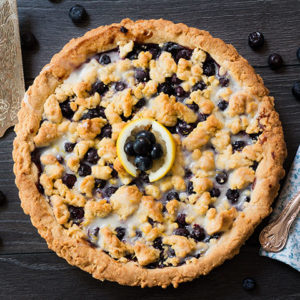 Let's Make Blueberry Lemon Shortbread Tart
This fabulous tart is packed full of juicy blueberries and a hint of zingy lemon.

Prep15 minutes
Cook45 minutes
Total1 hour
Ingredients
1 cup butter at room temperature
½ cup sugar
¼ cup light brown sugar packed
1 tablespoon lemon juice
the zest of a 1/2 lemon grated
2⅓ cups all-purpose flour
½ teaspoon salt
1 cup blueberry preserves or good quality blueberry jam
1 cup fresh or blueberries
For the lemon icing: (optional - see note step 10 of the instructions)
½ cup powdered sugar
1 teaspoon lemon juice
the zest of one lemon grated
1 tablespoons butter melted
1-2 tablespoons milk
Instructions
Preheat the oven to 350F/160C.

Grease a 9-inch removable-bottom tart pan and place this on a baking tray.

Using a food processor or mixer fitted with the paddle attachment, beat the butter, sugar, lemon juice, lemon rind, and brown sugar vigorously until pale and fluffy, about 3 minutes. It's an important step to beat the butter and sugar well together when making shortbread as this ensures the shortbread is light, crisp and will hold together.

In a separate bowl, sift the flour and salt. Add it to the butter mixture and mix until blended (forming large clumps).

Turn onto a floured surface and using floured hands, press two-thirds of the mixture evenly into the prepared pan (including the sides).

Spread with the blueberry preserves or jam evenly over the dough, leaving a ¼-inch border and then scatter with the blueberries.

Crumble the remaining dough into large crumbs and scatter evenly over the filling, covering most of the surface.

Bake the tart for 40 - 45 minutes, until lightly browned.

Leave to cool completely in the pan.

NOTE: If your Blueberry Jam is quite sweet, you may want to skip the icing.

For the Vanilla icing:

In a small bowl whisk together the powdered sugar, lemon juice, lemon rind, butter and one tablespoon of the milk. If it looks too thick, you can add a second tablespoon of milk.

Drizzle the cooled tart with the icing, remove from the pan and serve on the base.
Nutrition Information:
Calories: 388kcal (19%)| Carbohydrates: 57g (19%)| Protein: 2g (4%)| Fat: 16g (25%)| Saturated Fat: 10g (63%)| Cholesterol: 43mg (14%)| Sodium: 251mg (11%)| Potassium: 67mg (2%)| Fiber: 1g (4%)| Sugar: 32g (36%)| Vitamin A: 510IU (10%)| Vitamin C: 4.4mg (5%)| Calcium: 19mg (2%)| Iron: 1.3mg (7%)