This recipe for Beef Massaman Thai Curry is sure to get your taste buds going with it's fragrant, savory and authentic flavors.
This wonderfully rich and tasty beef dish is infused with all the exotic flavors of Thailand. Making your own fragrant curry takes some Asian ingredients and a little time but you'll taste the difference and be happy you made the effort!
If you've never had a Massaman curry, it's basically a Thai version of stew. It's a rich, crazy delicious, mild Thai curry that's made with coconut milk, beef, potatoes, and pearl onions.
Oh, and it's one of my very favorite things in the world!
While this recipe makes a Massaman curry paste from scratch if you're looking to save time you can also use a store-bought curry paste and still get a great result.
My recipe takes a bit more effort, but I promise it delivers amazing and authentic tasting results – slowly cooked beef that becomes tender, soft, and melts in your mouth.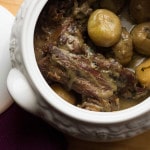 Massaman curry can be made with chicken, beef, or lamb (just check out my Thai Lamb Massaman). Whatever meat you use, it's a flavorful dish that's great to serve for weekend meals or dinner parties alike.
Or you can also make this ahead of time and reheat it, which makes it perfect for quick, weeknight dinners too. Try it and you won't be sorry!
★ Did you make this recipe? Please give it a star rating below!
Stay Updated
Receive new recipes & dinner ideas straight to your inbox!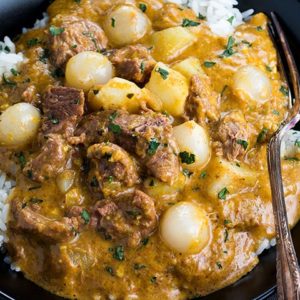 Let's Make Beef Massaman Thai Curry
This recipe makes an authentic Thai curry for that's slow-cooked and ideal for taking the last minute stress out of entertaining guests.
Prep20 minutes
Cook1 hour 30 minutes
Total1 hour 52 minutes
Blend paste: 2 minutes
Serves: 4 servings
Ingredients
For the Mussaman paste:
1 large onion chopped
5 cloves of garlic chopped
2 lemongrass stalks tender part only finely chopped
1 inch /2.5cm piece fresh ginger peeled grated
1 tablespoon of ground cumin
1 tablespoon of ground coriander
8 black peppercorns
1 teaspoon of anchovy paste
1 teaspoon of granulated sugar
2 tablespoons of vegetable oil
For the main dish:
1 lb /500g of small potatoes peeled and quartered
12 pearl onions peeled & left whole
2 lbs of beef stewing meat cubed
leaves small bunch fresh cilantro/coriander stalks finely chopped & separated
2 in /5cm piece fresh root ginger finely grated
2 - 14 ounces fl /400ml cans coconut milk
1 tablespoon of lime juice
1 tablespoon of lemon juice
1 tablespoon of fish sauce
3 leaves of dried kaffir lime
Instructions
Preheat oven to 300 f/150 c
For the curry paste:
Fry the onion, garlic, lemongrass, ginger, cumin, coriander, garlic cloves and peppercorns in a dry frying pan for until fragrant (4-5 minutes).

Remove the pan from the heat and set aside to cool.

Blend the spices in a food processor, then add the anchovy paste, sugar and oil and blend until smooth. Set aside.

Heat a large non-stick frying pan and brown the meat until golden brown set aside in a large oven-safe dish with the potatoes & onions.

Add the massaman paste, cilantro/coriander stalks and ginger to the frying pan, then fry for a few minutes until fragrant.

Stir in the coconut milk and bring to a boil.

Season with the lime & lemon juice and fish sauce add the lime leaves, then pour the sauce over the meat, onion, and potatoes, cover and bake for 1 1/2 hours.

Serve on rice sprinkled with the chopped cilantro/coriander leaves.
Nutrition Information:
Calories: 205kcal (10%)| Carbohydrates: 31g (10%)| Protein: 5g (10%)| Fat: 7g (11%)| Saturated Fat: 5g (31%)| Cholesterol: 1mg| Sodium: 429mg (19%)| Potassium: 749mg (21%)| Fiber: 5g (21%)| Sugar: 6g (7%)| Vitamin A: 50IU (1%)| Vitamin C: 28.2mg (34%)| Calcium: 92mg (9%)| Iron: 5.5mg (31%)