You can't beat a classic dessert like these delicious Apple Crumb Cakes with tender apples and a crunchy cinnamon crumb topping!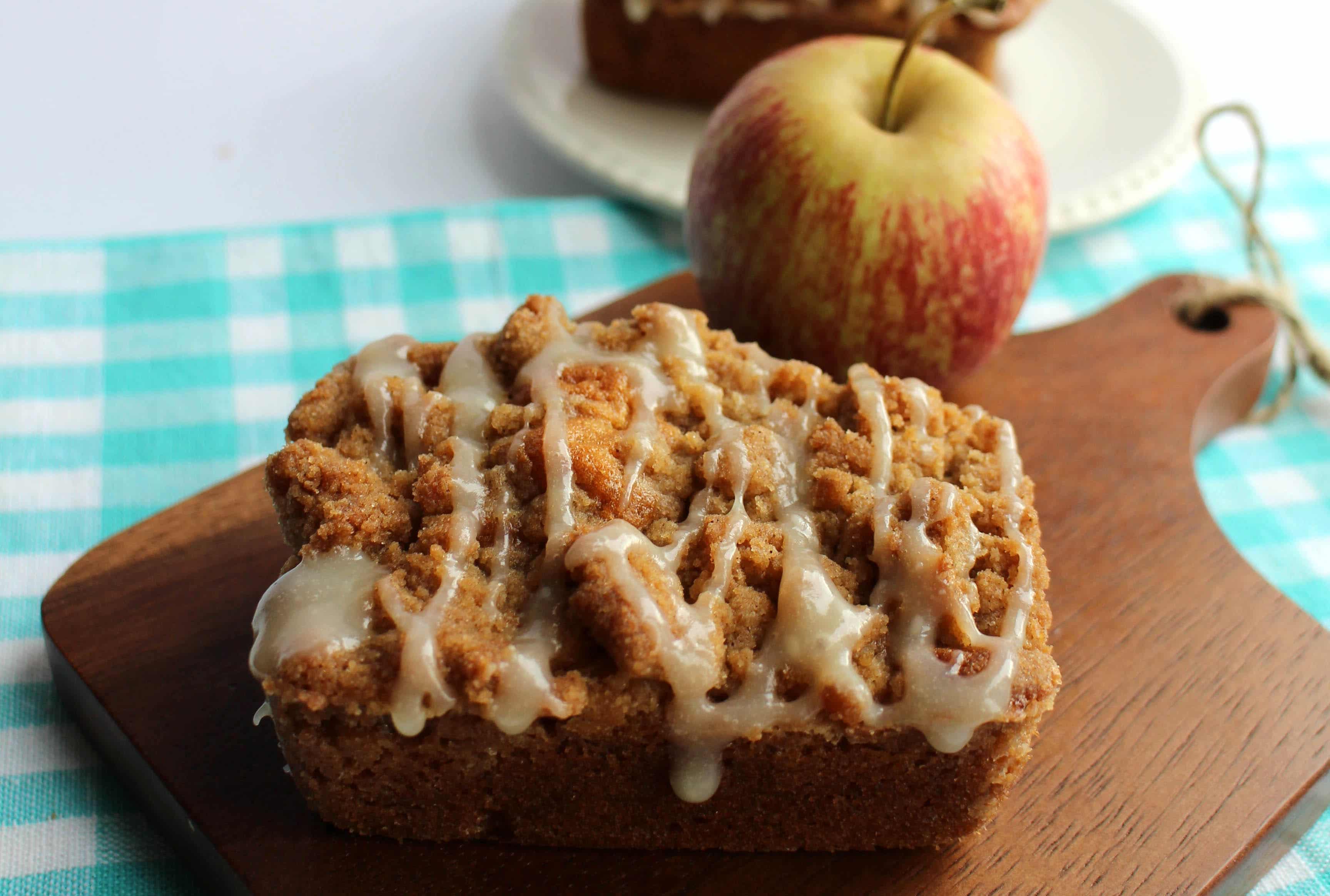 There's something about September that just makes me crave apples.  Nothing says autumn like apples and cinnamon; so for my first post of the Fall, I give you these magical little cakes that are guaranteed to put a smile on anyone's face!
Oh, and before I go any further, you can get the pan here on Amazon  or in the UK, click here.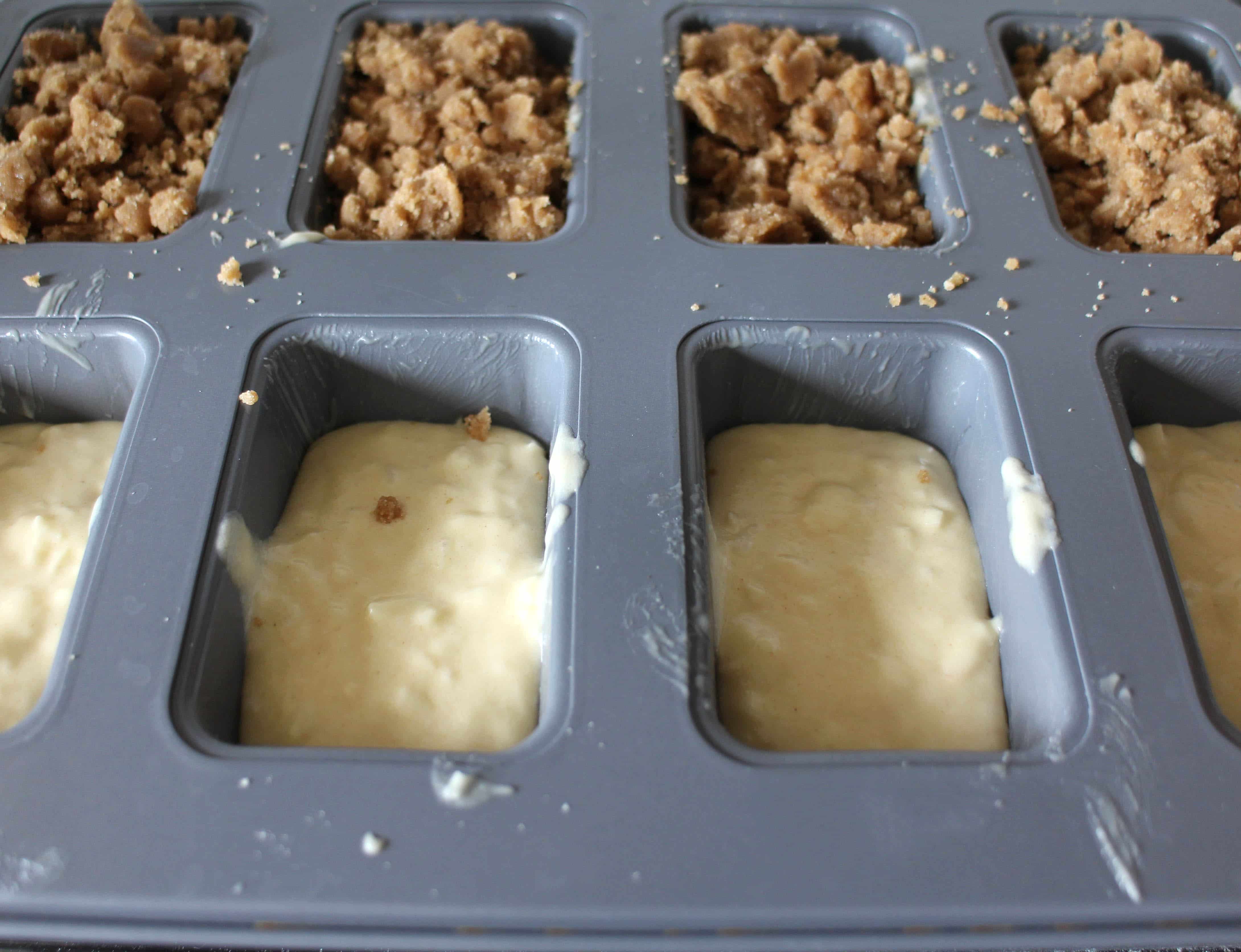 I absolutely, love crumb cake.  I have to say that my favorite recipe so far is my New Jersey Crumb Cake recipe.  Every time I pin the recipe, my mouth waters!  Being a food blogger, after perfecting a recipe, I don't get too many chances to make the same recipe very often, but I had to have some crumb cake so I found a way to get some!
My son had a loose tooth just before he started school and refused to go near an apple.  I had just bought a big bag for his school lunches and needed to find something to do with them, so I took my chance at having crumb cake again and ran with it!
To incorporate the apples, I simply chopped them up and threw them in the batter.  No big changes, no messing around – just chopped apples in a cake that's already pretty perfect!  To give it a little twist, I decided to make some mini cakes instead of one big one.  That way, I could easily add them to my son's lunch box.
The only other change I made was adding a cream cheese drizzle icing instead of topping them with powdered sugar.  If you are a regular reader of Erren's Kitchen, you might have noticed I add a cream cheese to as many things as I can and oh, what a good choice it was!
9/12/14 Update – I was informed by a reader that they tried making the recipe and it didn't come out well.  As I wrote the recipe after baking it, there could have been an error.  I based this recipe on my Crumb Cake so to be sure, I copied those ingredients directly from that post into this one (adding the apples and topping).  The only thing that will impact the original recipe that was posted earlier this week is that it will make double the quantity of cakes. The recipe below has been tested many times so I'd rather be safe than sorry.
Never Miss A Single Recipe!
Join the free Erren's Kitchen mailing list and get all the latest tasty goodness straight to your inbox!
Apple Crumb Cakes
Ingredients
FOR THE TOPPING

3/4

cup

brown sugar

packed

1/2

cup

granulated sugar

1

tablespoon

ground cinnamon

1

teaspoon

salt

3/4

cup

butter

melted

1 1/2

cups

all purpose flour

FOR THE CAKE:

2 1/2

cups

all purpose flour

1

teaspoon

baking soda

1

teaspoon

baking powder

1/4

teaspoon

salt

1 1/2

sticks

butter

softened

1 1/2

cups

granulated sugar

2

large eggs

1 1/4

cups

Buttermilk

1 1/2

teaspoons

Vanilla extract

4-6

small apples

FOR THE ICING:

6

tablespoons

softened cream cheese

3

tablespoons

softened butter

1

cups

powdered sugar

½

teaspoon

vanilla extract

2-4

tablespoons

warm milk
Instructions
Instructions

TOPPING:

Mix both sugars, cinnamon, and salt in medium mixing bowl. Add the warm melted butter and stir to blend.

Add flour and mix with a fork until moist clumps form. Set aside.

CAKE:

Preheat the oven 350F/170c.

Grease 12 section mini loaf or brownie baking pan.

In a medium mixing bowl mix together the flour, baking soda, baking powder, and salt.

Beat the softened butter in large bowl until light.

Add sugar and beat until light and fluffy.

Add eggs 1 at a time, beating until well blended after each addition.

Add buttermilk and vanilla, beat just until blended.

Add flour mixture in 3 additions, beating just until blended after each addition.

Peel, core, and chop the apples and fold them into the batter.

Transfer cake batter evenly to prepared baking pan.

Hand squeeze small handfuls of topping together to form small clumps. Drop topping clumps evenly over each cake, covering with a layer of topping.

Bake 20-30 minutes or until tester comes out clean and topping is deep golden brown and a little crisp.

Cool cake in dish on rack at least 30 minutes.

For the cream cheese icing:

Mix the cream cheese butter, sugar, and vanilla. Add warm milk 1 tablespoon at a time until the glaze reaches desired consistency.

Drizzle each cake with icing and enjoy!

Makes 12 - 15 cakes
Nutrition Facts
Apple Crumb Cakes
Amount Per Serving
Calories 0
* Percent Daily Values are based on a 2000 calorie diet.
Never Miss A Single Recipe!
Join the free Erren's Kitchen mailing list and get all the latest tasty goodness straight to your inbox!