This recipe for Antipasto Pasta Salad is an Italian inspired salad that makes a fresh and vibrant addition to any picnic or barbecue.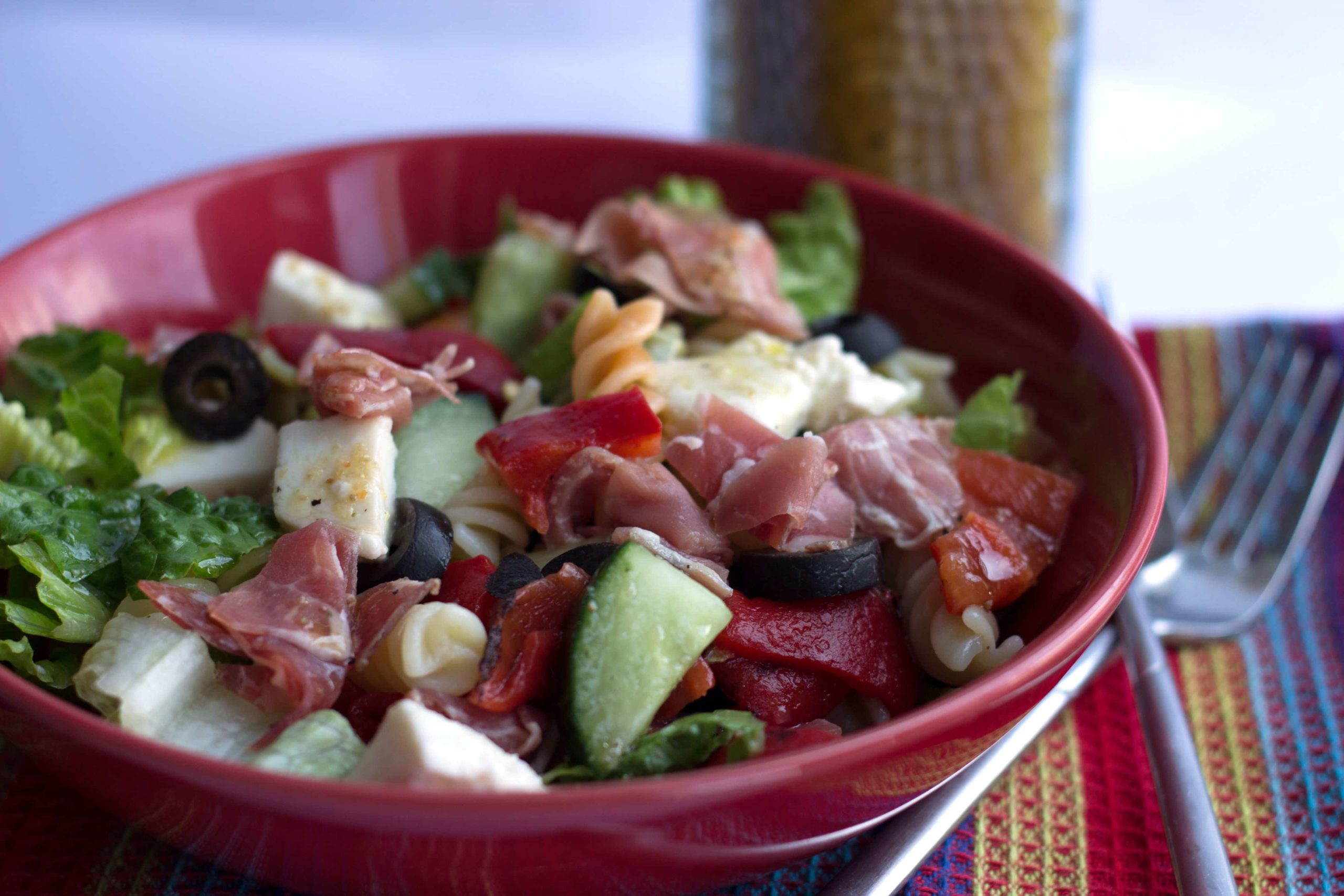 I was raised in an Italian household. My grandmother's family were right off the boat from Italy and my mother was raised with all the Italian traditions so even though her kids weren't even half Italian, that's how she raised us.
I was really lucky to grow up around so much amazing food, although I may have told you differently when I small child being dragged out of bed on a Sunday morning to chop garlic and mix meatballs! I have to admit that to this day I hate making meatballs! I make a killer meatball, but make them only once in a blue moon. Luckily, with the exception of lasagna (which I have the same feelings on), that's the only side effect of my Italian upbringing.
When it comes to food, I keep up the Italian traditions. Even though I'm not religious, I still like to make a meat-free Christmas eve dinner and I love a big Italian feast on Sundays. I should really start posting my traditional Italian dishes, but they are so typical in this house that I never think to do it (having the mindset that it's commonplace to everyone else as well).
This pasta salad is one of those dishes. It's a staple in my house over the summer. We probably eat it once a week. It's my six-year-old son's all-time favorite meal and he requests it all year round. It's a speedy pasta salad with Mediterranean flavors that's perfect for hot summer evenings.
You can adapt this recipe to add any of your favorite Italian antipasto ingredients (like marinated mushrooms & artichokes or other Italian meats & cheeses) In the UK, Italian ingredients aren't plentiful so I just add what I can get my hands on. Oh, how I miss the Italian grocery stores they have back home in NJ!
If you love this salad I have more wonderful recipes, such as Tomato Avocado Salad and the fabulous 10 Minute Greek Style Cous Cous Salad with Feta. Get your salad on!
Stay Updated
Receive new recipes & dinner ideas straight to your inbox!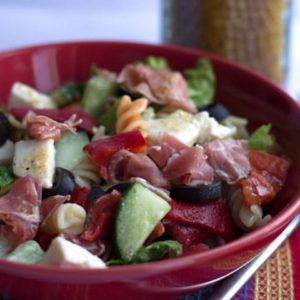 Let's Make
Antipasto Pasta Salad
A wonderful Italian inspired dish to serve up at picnics and barbeques.
Prep10 minutes
Cook10 minutes
Total20 minutes
Ingredients
For the dressing:
¼ cup balsamic vinegar
1 teaspoon garlic powder
1 teaspoon dry mustard
½ teaspoon salt
½ teaspoon freshly ground black pepper
½ cup extra-virgin olive oil
½ teaspoon dried oregano
Antipasto Salad:
1 pound fusilli pasta
1 head of romaine lettuce washed & chopped
1 cucumber sliced
½ cup Italian hard salami cut into strips, about 3oz
½ cup prosciutto cut into strips
½ cup bruschetta cut into strips
2 fresh mozzarella balls cubed
¼ cup provolone cheese cubed
½ cup black olives pitted & sliced
2 roasted red peppers cut into strips
¼ teaspoon salt
½ teaspoon freshly ground black pepper
Instructions
In a small bowl, add the vinegar, garlic powder, mustard, dried oregano, salt, and pepper. Mix well. Add the olive oil & mix until smooth.

Bring a large pot of salted water to a boil over high heat. Add the pasta and cook until tender but still firm to the bite, stirring occasionally, about 8 to 10 minutes.

Drain the pasta & rinse with cold water until the pasta is cool to the touch. Set aside.

In a large bowl, toss together the lettuce, cucumber & pasta with the remaining salad ingredients.

Drizzle with dressing and toss to coat.
Nutrition Information:
Calories: 848kcal (42%)| Carbohydrates: 92g (31%)| Protein: 24g (48%)| Fat: 42g (65%)| Saturated Fat: 8g (50%)| Cholesterol: 23mg (8%)| Sodium: 1385mg (60%)| Potassium: 490mg (14%)| Fiber: 5g (21%)| Sugar: 6g (7%)| Vitamin A: 900IU (18%)| Vitamin C: 11.3mg (14%)| Calcium: 171mg (17%)| Iron: 2.5mg (14%)