This recipe for Chorizo & Roasted Red Pepper Pasta makes a quick & simple, yet impressive pasta dish. The kick of the chorizo and roasted red peppers are balanced perfectly by a creamy mozzarella cheese.
Chorizo isn't just for paella type dishes, it's lovely with pasta too! This super-quick recipe is full of flavor and perfect for a speedy mid-week supper.
In case you haven't noticed, pasta dishes are my go to summer time meal. They are just quick and easy to throw together without heating up the kitchen.
I love pasta.  I mean who doesn't? What's not to like?
It's humble and filling and it goes so well with so many different ingredients. It's a staple in my kitchen and as much as I like the classics like, spaghetti & meatballs and Alfredo sauce, I am always trying to create something a bit different.
This simple pasta with chorizo and roasted red peppers is super quick and really flavorful.
These are really simple ingredients that you can keep on hand in your pantry and always have a fresh and fast meal you can throw together.  Even if you skip the mozzarella (it's not exactly a pantry ingredient like the rest), it's still a great dish.
Stay Updated
Receive new recipes & dinner ideas straight to your inbox!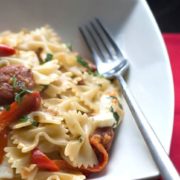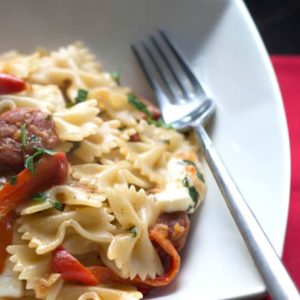 Let's Make
Chorizo & Roasted Red Pepper Pasta
This punchy pasta salad is a taste delight, simple to make but with complex flavors.
Prep5 minutes
Cook10 minutes
Total15 minutes
Ingredients
2 tablespoons olive oil
1 pound dried pasta
8 ounces chorizo sliced
2 cloves of garlic chopped
1 large onion chopped
4-6 roasted red peppers from a jar
6 ounces fresh mozzarella cubed
a good handful parsley chopped
½ cup grated fresh Parmesan/Pecorino Romano plus extra to serve
salt and pepper to taste
Instructions
Put a pan of water on over a high heat to boil.

When the water is boiling briskly, add the pasta and cook according to the package instructions, being careful not to overcook.

In a large frying pan, heat the oil, add the chorizo and cook for a minute or so, until heated through and the juices are stained red from the paprika in the chorizo.

Add the onion and cook until they become translucent (about 4-5 minutes).

Add the garlic and cook another minute.

Add the peppers and heat through.

Scoop half a mugful of pasta water from the pan, drain the remainder and add the pasta into the pan.

Add the mozzarella parsley, and grated cheese well and splash in the pasta water, to moisten.

Season to taste with salt & pepper.

Serve hot with extra grated cheese
Nutrition Information:
Calories: 937kcal (47%)| Carbohydrates: 91g (30%)| Protein: 43g (86%)| Fat: 43g (66%)| Saturated Fat: 17g (106%)| Cholesterol: 91mg (30%)| Sodium: 1681mg (73%)| Potassium: 616mg (18%)| Fiber: 4g (17%)| Sugar: 4g (4%)| Vitamin A: 580IU (12%)| Vitamin C: 19.7mg (24%)| Calcium: 415mg (42%)| Iron: 3mg (17%)