This recipe for Quick & Easy Chinese Noodle Soup makes a super simple, aromatic broth that's packed with noodles and Asian flavor.  Once you try this recipe, you'll never go back to the packaged soups again!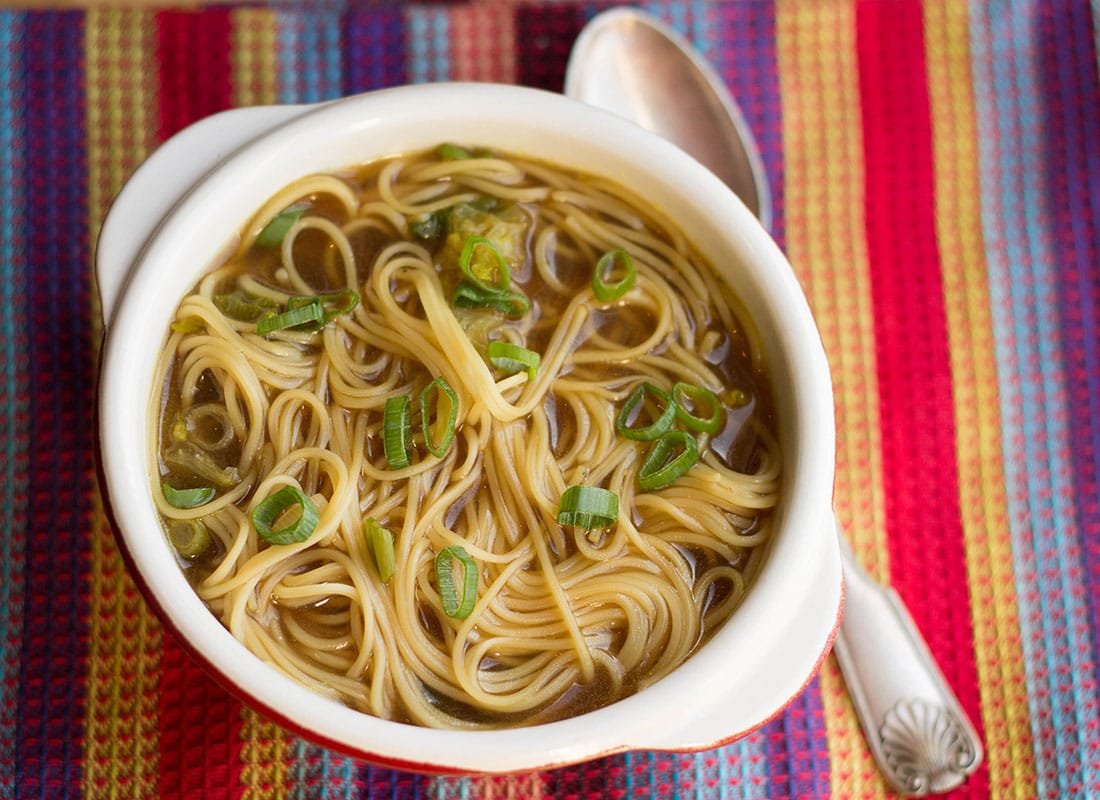 I know how easy it is to rip open a package of Ramon noodles to have a quick meal, but I'm telling you there really isn't a need.  This wholesome noodle soup is low fat, healthy and packed full of tasty ingredients. So don't let a lack of time ruin a meal, this speedy recipe is easy to whip up at the last minute.
As you may have noticed from quite a few of my other posts, I absolutely love noodle soups!
I remember as a kids just LOVING those instant noodles with the little packet of powdered soup mix.  I couldn't get enough of the stuff.  Even now, I love the look of it, but when it comes to taste, I can't believe I ever liked it!
That said, there is something to be said for food that takes minutes to prepare.
I've created these recipes because I have cookbook after cookbook filled with pages of lovely looking Chinese noodle soups that quite often come with complicated directions.
My versions are not only quick and easy, but they are delicious too!
The best part is that they are made from fresh, simple ingredients and there's no packet of powder to be found.   If you make this soup (or any of my others), you'll never make the instant kind again!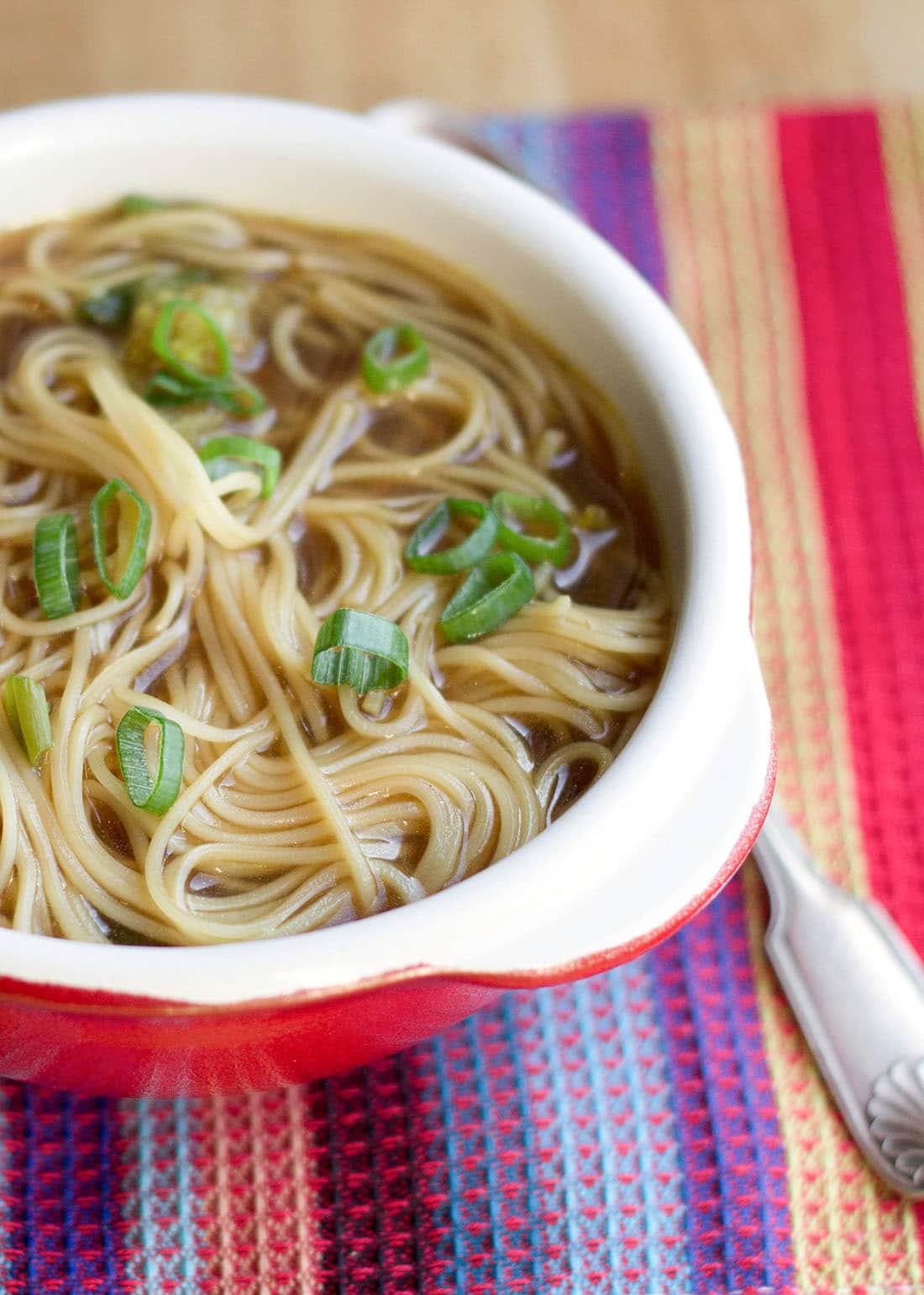 Making the soup is so simple!  You just add the ingredients to the stock with the noodles and it's ready in a matter of minutes!   I make this recipe a lot.  It's great for a quick lunch or even dinner on those busy week nights.
I often add cooked meats or shellfish at the end to make it more of a complete meal.
I also have a vegetarian friend who steams vegetables in the microwave while the soup cooks and adds them when the soup is ready.  That way she can control the firmness of the vegetables instead of over cooking then in the soup.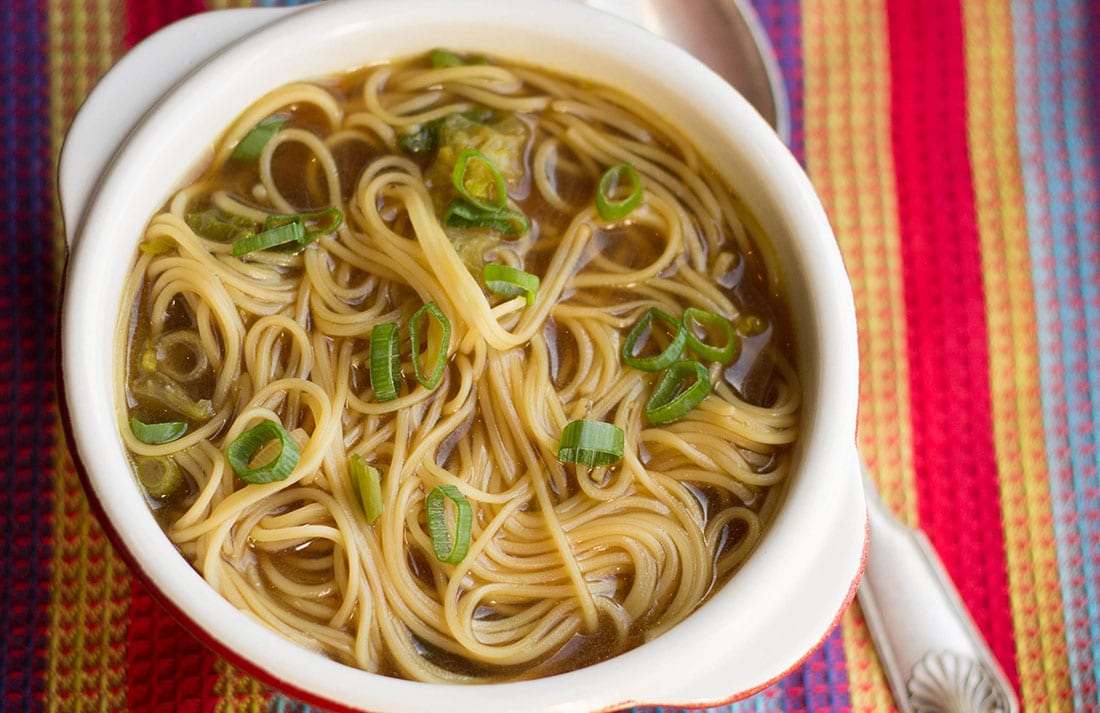 Love Chinese food – Try some of my other recipes you can fine here at Erren's Kitchen:
Never Miss A Single Recipe!
Join the free Erren's Kitchen mailing list and get all the latest tasty goodness straight to your inbox!
Quick & Easy Chinese Noodle Soup
A quick and easy soup that's packed with flavor
Ingredients
4

cups

/1 Litre chicken Stock

2

– 3 Green/Spring onions – finely sliced into rounds

1

Tablespoon

Oyster Sauce

1

Tablespoon

Light Soy Sauce

1

Tablespoon

Dark Soy Sauce

4

oz

/200g Dried Chinese noodles of your choice

4

leaves

Bok Choy/Pak choi

sliced
Instructions
In a large saucepan, heat the chicken stock and bring to a boil.

Add the green onions, Bok Choy,soy sauces, oyster sauce & the noodles.

Reduce the heat and cook according to noodle package instructions (just until tender).

Serve hot
Never Miss A Single Recipe!
Join the free Erren's Kitchen mailing list and get all the latest tasty goodness straight to your inbox!