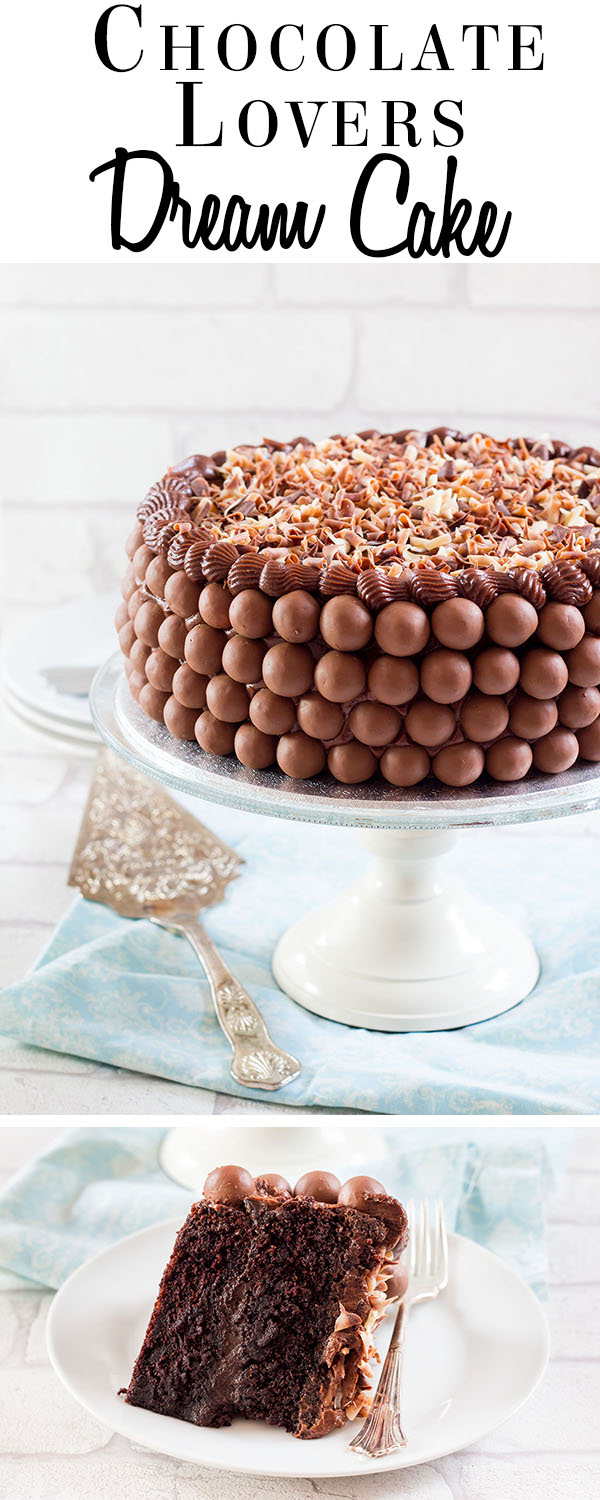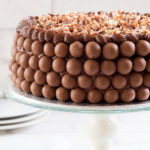 Chocolate Lovers Dream Cake
Ingredients
1 2/3

cups

/235g all-purpose flour

1 2/3

cups

/375g/super fine/caster sugar

2/3

cup

/95g cocoa powder

1

teaspoons

½ baking powder

1

teaspoons

½ baking soda

3

free-range eggs

1 1/4

cups

/310ml milk

2/3

cup

/150ml olive oil

2

teaspoons

vanilla bean paste or extract

1

cup

/250ml boiling water

1

teaspoon

instant coffee

For the chocolate pudding filling:

1

cup

/250ml whole milk

1/4

cup

/56g sugar

1/8

cup

/17g cocoa powder

1/4

cup

/37.5g semisweet chocolate chips

2

teaspoons

cornstarch

1

large egg yolk

1

teaspoon

vanilla bean paste or extract

teaspoon

¼ salt

1

tablespoon

/14g butter

For the buttercream

4

oz

/100g good-quality dark chocolate

or semi sweet

1

cup

/140g powdered sugar

1

cup

/250g butter

1

teaspoon

vanilla bean paste or extract

Milk to loosen

For the decoration:

12

oz

/360g Chocolate malt balls

Whoppers or Maltesers

Chocolate shavings
Instructions
Preheat the oven to 350F/180C. Grease and line two 9in cake pans.

For the cake:

Place all of the cake ingredients, except the boiling water and coffee, into a food processor. Blitz until smooth and well combined.

Add the coffee to the boiling water, turn the food processor on its lowest speed and add to the mixture, a little at a time, until smooth. (The cake mixture will now be very liquid.)

Divide the cake batter between the cake pans and bake in the oven for 25-35 minutes, or until the top is firm to the touch and a cake tester inserted into the center of the cake comes out clean.

Remove the cakes from the oven and allow to cool completely, still in their pans, before icing.

For the chocolate pudding filling:

In a saucepan, whisk together the milk, sugar, cocoa powder, cornstarch, egg yolks, vanilla and salt. Cook over medium-high heat whisking constantly, until the mixture comes to a simmer. Add the chocolate and butter.

While continuing to constantly mix, bring to a full boil. Reduce the heat to maintain a simmer, and continue whisking until thick, about 2 or 3 minutes more.

Pour the pudding into a bowl. Cover with plastic wrap (with the plastic wrap touching the surface of the pudding to avoid a skin) and refrigerate for at least 4 hours or until set.

For the butter cream:

Melt the chocolate in a heat safe bowl placed over a pan of simmering water. (Do not allow the base of the bowl to touch the surface of the water.) Allow it to cool until the chocolate no longer feels hot to the touch.

Beat the butter in a food processor (or mixer) until soft, then gradually beat in the powdered sugar.

Add the vanilla bean paste and beat again.

Fold in the cooled melted chocolate until completely combined (add a little milk if the mixture is too stiff).

This icing can be kept in the fridge for a few days. To use after chilling, bring to room temperature and beat again until smooth before icing your cake.

To assemble the cake, run a butter knife around the inside of the cake pans to loosen the cakes. Carefully remove the cakes from the pans.

If the cakes dome at the top at all using a bread knife, trim to even.

Spread the filling over the top of one of the cakes, then carefully top with the other cake (leaving some to decorate with if desired).

Transfer the cake to a serving plate and ice the cake all over with the chocolate icing, using a palette knife.

Spread the icing evenly over both cakes.

Place the malt balls over the side of the cake.

Add any icing decoration you want.

Cover the top of the cake with chocolate shavings.

Transfer the cake to a serving plate and ice the cake all over with the chocolate icing, using a palette knife.